RELEASE DATE: 5/13/10
FOR IMMEDIATE RELEASE: Mountie late rally falls short in 9-6 loss to West Chester in opening round of the NCAA Atlantic Region Playoffs
KUTZTOWN – Second-seeded and defending Atlantic Region Champion West Chester took advantage of fifth-seeded Mansfield's mistakes early to win 9-6 in the first round of the NCAA Atlantic Regional on Thursday afternoon at Owls Field at Ted Palka Park.
Mansfield will now play one seed Kutztown which was upset 4-3 by six seed California in the second game of the day. That loser bracket game will be played at 11 a.m. on Thursday and can be heard through live streaming by RLM Sports Bob Michaels starting at 10:50 a.m. at www.GoMounties.com.
The Golden Rams (37-12 overall) drew six walks and had three batters who were hit by pitches against Bernard Johnson. Mansfield (32-19) had a runner thrown out trying to advance a base in the fourth, fifth and sixth innings and hit into two double plays. Three of the Golden Rams' first four runs were scored on bases loaded walks and one crossed on a sacrifice fly to left by Kevin McGrath.
Nick Spisak, who was plunked twice in the first three innings, put the first run across in the third inning after being hit in the head.
Mansfield finally got to pitcher Jordan Lehman in the sixth inning after he cruised through the first five innings allowing one hit. The Mounties had five straight hits to score three runs.
Glen Jenkins doubled and came around to score on a single to left by Matt Hamilton. Matt Miller added an RBI double and came around to score on a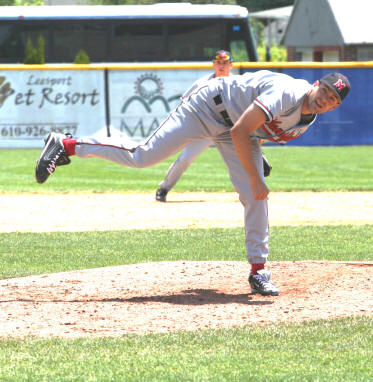 single up the middle by Mike Hartz, which cut West Chester's advantage to 4-3.
Lehman finished the game with four strikeouts and five earned runs in 8.1 innings to pick up the win.
The West Chester bats came to life in with a home run by Joe Wendle in the sixth and a four run eighth inning. Spisak drove a 1-1 pitch well over the left fielders head to drive in McGrath and Christian Cox.
Mansfield 's comeback bid came up just short in the ninth inning. Jenkins was beamed by a fastball to plate one runner and chase Lehman from the game. With bases loaded, Jon Taddeo had a two-run double to center off of Joe Opalka. After that Opalka got a strikeout looking and groundout to second to end the game and pick up the save.
Mansfield's Chris Coleman extended his hitting streak to 25 games with a single in the ninth inning. Johnson, who was making his first start since the beginning of the 2009 season, went the distance throwing a gritty game. Johnson, who's longest stint in 17 previous games this year was 3.1 innings, went all eight innings striking out five with six walks and four hit batters.
The winner between Seton Hill and West Virginia State will take on West Chester at 6 p.m. on Friday night, while Kutztown will play Mansfield at 11 a.m. in an elimination contest.
West Chester 9 Mansfield 6
Mansfield 000 003 003 6 10 0
West Chester 002 111 04X 9 11 1
Mansfield (32-18): Bernard Johnson (L, 6-4) and Glen Jenkins
2b – Kevin Miller, Glen Jenkins, Jon Taddeo RBI – Taddeo (2), Jenkins, K. Miller, Matt Hamilton, Mike Hartz
West Chester (37-12): Jordan Lehman (W, 7-0), Save: Joe Opalka (9) and Bob Stumpo
2b – Nick Spisak, Josh Heyne 3b – Matt Baer HR – Joe Wendle RBI – Spisak (3), Kyle Orensky (2), Kevin McGrath, Wendle, Baer, Brandon Wolfe