RELEASE DATE: 4/27/10

FOR IMMEDIATE RELEASE: Mounties feel confident going into PSAC playoffs – Face tough opener against California Wednesday morning in Johnstown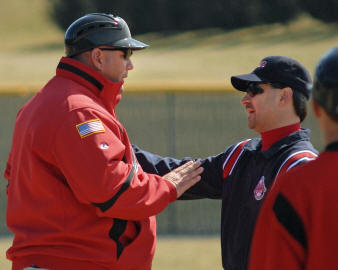 MANSFIELD – The Mansfield University Mountaineers will open the 2010 PSAC Baseball Championship Tournament with a 9:30 a.m. game against PSAC West runner-up California University at Point Stadium in Johnstown this Wednesday.
A live broadcast of all Mansfield's games will be streamed on the internet at GoMounties.com by the legendary Bob Michaels of RLM Sports starting 15 minutes before the start of each Mansfield contest.
Also in the tournament are West Chester (PSAC East #1), Kutztown (PSAC East #2), East Stroudsburg (PSAC East #4), IUP (PSAC West #1), Mercyhurst (PSAC West #3) and Slippery Rock (PSAC West #4).
Mansfield has won eight PSAC titles, second most behind Shippensburg, with the last championship coming in the 1997 season.
The tournament will be familiar surroundings for Mountaineer head coach Harry Hillson who is guiding his 15th team in 24 seasons at the helm into the championship tournament. While Hillson is an old and successful hand in postseason competition, this year's tournament appearance is perhaps one of his most rewarding.
"A lot of people didn't think we would be here before the season started," said Hillson. "I think that was a motivating factor for our guys and something that helped keep us focused on getting here."
Mansfield was picked next to finish next to last in the PSAC Coaches Preseason Poll with only one first-place vote the difference from finishing last in the poll.
"That was me," admits Hillson. "Even though we had a lot of new faces from last year's playoff team, I could tell from the very beginning there was something different about this group of guys."
"There's a tight chemistry among this bunch of guys and they've just gotten better as the season's gotten longer. We're hot right now and that's what you want to be going into a tournament."
The Mountaineers enter the playoffs as one of the hottest teams in the tournament winning 17 of their last 22 games including a season-long 11-game winning streak during that span.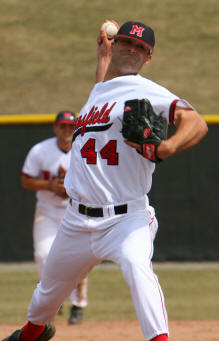 Mansfield's done it the old-fashion Mountie way – good and timely hitting along with enough pitching and defense to win games. The Mountaineers are fourth in the PSAC in team batting with a .338 average and third in home runs (37) along with a somewhat surprise sixth in stolen bases (64-79).
Although the pitching staff has struggled at times and perhaps lacks a dominate strikeout guy, they have more depth than the Mountaineers have enjoyed in a while which is perhaps the most important attribute in tournament play.
Mansfield's starting rotation of Chris Zelko, Justin Garcia, Bryan Wilde and Andy Young have combined for a 15 wins on the season but have gotten a lot of strong support from the relief staff including Bernard Johnson (6-2), Joel Worthington (2-3), Zach Ullrich (4-0), Shane Ryan (2-1) and Mike Martin (2-1) among others.
Zelko is expected to start Wednesday against California.
Eight of nine players in the starting lineup are batting .323 or better led by senior first baseman Chris Coleman who sports an.404 batting averaging and is on a 22-game hitting streak. Senior Matt Hamilton hits for average (.375) and has power (6 HR) and speed (10 SB) at the leadoff spot. Junior outfielder Kevin Miller had a sensational playoffs last year and brings a .368 average with 17 extra-base hits including three home runs along with 17 stolen bases into the tournament.
Freshman Dylan Woodworth has earned a starting spot in right field of late where he is batting .351with nine extra-base hits including three home runs. Fellow freshman Seth Tressler has settled in at second base and his hitting .349 with 10 doubles, two triples and two home runs along with 10 stolen bases.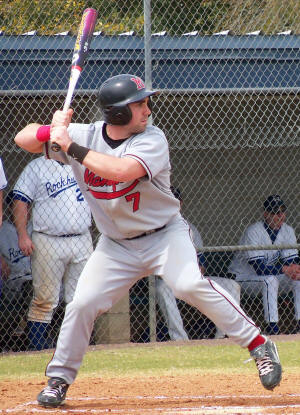 Junior Dan Chevalier has been the starting centerfielder all season and its batting .341 with 11 extra-base hits including nine doubles and two home runs while junior Mike Hartz has been sensational defensibly at third and has a .333 batting average along with a team-best 19 doubles and 49 RBI's.
Jon Taddeo is one of three freshmen in the starting linup where he plays shortstop and is hitting .323 with five home runs on the season. Only junior catcher Glen Jenkins is hitting less than .300 at .257 but the Golden Glove catcher has been sensational behind the plate throwing out a conference-best 22 runners on the season.
Although California finished second in the PSAC with a 28-16 overall record the Vulcans could be the toughest first-round opponent in the tournament.
Like Mansfield, California has a good-hitting team (.342, 2nd in PSAC) with power (34 HR, 4th in PSAC) and plenty of speed (137-157 stolen bases, 1st in PSAC). In addition the Vulcans have one of the best starting pitchers in the conference in sophomore red-shirt Randy Sturgill. The big lefty has a 7-2 mark with a 3.21 ERA on the season and leads the PSAC in strikeouts (79).
Sophomore centerfielder Troy Handza is having a remarkable season batting .392 with 10 home runs and 56 runs batted in while also strealing 30-33 bases. Right fielder Sam DiMatteo is equally as dangerous hitting .387 with 10 home runs and 47 RBI's while ranking second in the conference with 39 stolen bases.
PSAC Baseball Tournament Format
Wednesday, April 28
9:30 AM Game 1: #2 West (California) v #3 East (Mansfield) (Bracket A)
12:30 PM Game 2: #1 East (West Chester) v #4 West (Slippery Rock) (Bracket A)
3:30 PM Game 3: #2 East (Kutztown) v #3 West (Mercyhurst) (Bracket B)
6:30 PM Game 4: #1 West (IUP) v #4 East (East Stroudsburg) (Bracket B)
Thursday, April 29
9:30 AM Game 5: Game 1 Loser v Game 2 Loser (Loser eliminated)
12:30 PM Game 6: Game 3 Loser v Game 4 Loser (Loser eliminated)
3:30 PM Game 7: Game 1 Winner v Game 2 Winner
6:30 PM Game 8: Game 3 Winner v Game 4 Winner
Friday, April 30
9:30 AM Game 9: Game 5 Winner v Game 7 Loser (Loser eliminated)
12:30 PM Game 10: Game 6 Winner v Game 8 Loser (Loser eliminated)
3:30 PM Game 11: Game 9 Winner v Game 7 Winner
6:30 PM Game 12: Game 10 Winner v Game 8 Winner
Saturday, May 1
If ONE Game Needed: (Both Game 7 and Game 8 winners win in Games 11 and 12)
1:00 PM Game 13 Championship Game
If TWO Games Needed: (If only one of Game 7 or Game 8 winners win Games 11 or 12)
Noon Game 13 IF Game
3:00 PM Game 14 Championship Game