RELEASE DATE: 3/05/09
FOR IMMEDIATE RELEASE: Mounties Split with Wilmington in Florida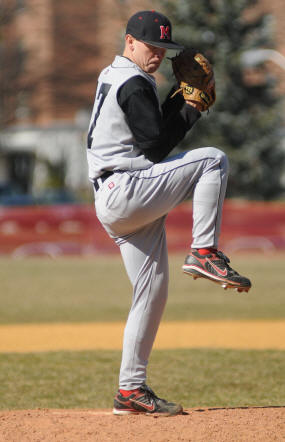 FT. PIERCE, FL – Nate Grove hit his first home run of the season and drove in three runs to lead Mansfield to a 12-6 win over Wilmington University in the opening game of a doubleheader in Ft. Pierce, FL Thursday afternoon.
Wilmington won the nightcap 7-0.
Mansfield jumped out to four runs in the first inning in the opener with Chris Miller driving in the first run on a triple followed by an RBI double by Grove and run scoring single by Mike Hartz.
Grove would up the score to 8-0 in the top of the second with a two-run home run.
Eric Rosenberger picked up his second win of the season with relief by Joe Will. Grove went 3-5 with a double, home run and three RBI's in the game while Hartz was 3-4 with two RBI
Mansfield suffered its second shutout of the season in the nightcap with Justin Garcia taking the loss.
Mansfield plays Slipper Rock on Friday.
GAME ONE
Mansfield 440 022 0 12-14-3
Wilmington 012 120 0 6-7-3
Mansfield (6-8): Eric Rosenberger (W, 2-0), Joe Will (5) and Tony Battisti
2b – Nate Grove, Cody Stinger, Drew Baer 3b – Chris Miller HR – Nate Grove (1)
RBI – Grove 3, Chris Miller 2, Matt Young, Stinger, Chris Coleman, Mike Hartz 2
Wilmington: Joe Harris (L), JT Gregory (6), Nick Galinskie (7) and Phil Aviola
2b – Bryan Woolford RBI – Aviola 2, Drew Anusky
GAME TWO
Wilmington 410 101 0 7-6-0
Mansfield 000 000 0 0-5-0
Wilmington: Bryan Woolford, Greg Snyder (W) (3), Phil Aviola (7) and Mike Godwin
3b – JT Gregory RBI - Gregory, Cody Holiday, Anusky, Jason Wyatt, Matt Umba, Mike Godwin
Mansfield (6-9): Justin Garcia (L, 0-2), Chris Zelko (2), Andy Young (5), Shane Ryan (7) and Tony Battisti, Kevin Miller (7)