RELEASE DATE: 3/18/09
FOR IMMEDIATE RELEASE: Mounties score six runs in the bottom of the seventh to give Harry Hillson 700th career victory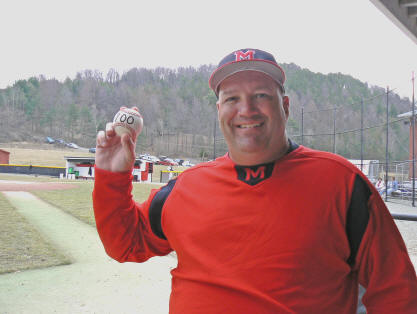 MANSFIELD – Mansfield scored six runs in the bottom of the seventh including the game-winner on a error to rally for a 14-13 win in a slugfest with Wilmington University in the first game of a doubleheader Wednesday afternoon at Shaute Field.
The second game was rained out with Mansfield leading 2-1 going into the top of the after a 1 hour and 10 minute rain and lighting delay.
The win was the 700th career victory for head coach Harry Hillson making him just the third head coach in Pennsylvania collegiate baseball history to reach the milestone.
"A lot of good players were responsible for those 700 wins," said Hillson between games. "Players get credit for wins and coaches take responsibility for losses. I wouldn't have won one game if it wasn't for the players and we've had a lot of very good ones here at Mansfield."
Hillson, in his 23rd year as the head coach of the Mountaineers, joins James Wilson, who recorded a Pennsylvania record 1,034 wins in 46 seasons at Temple (1960-2005) and Slippery Rock's Jeff Messer, who won his 735 game last week in his 24th season, as the only three coaches in Pennsylvania collegiate baseball history to reach the 700 win milestone.
Hillson became the second fastest to reach the 700 win mark doing so in his 1099th game. Messer reached the milestone in his 1094 game last season.
Hillson's won a lot a big games over the course of his 700 victories but perhaps none was as dramatic as number 700.
It looked as if the historic milestone would be delay when Wilmington added to a 10-8 lead with three runs in the top of the seventh inning.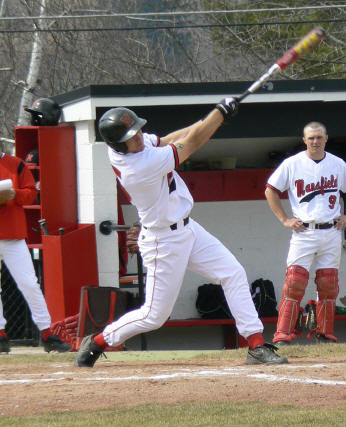 Trailing 13-8, Cody Stinger led off the bottom of the seventh with a solo home run. Three straight singles by Chris Coleman, Drew Bair and Tony Battisti loaded the bases with no outs before Kevin Miller doubled to left to drive in two runs cutting the lead to 13-11.
Mansfield scored another run off a wild pitch to close to 13-12 and Miller moved up to third base. After Matt Young flied out to right field for the first out of the inning, Mike Hartz doubled in Young with the tying run before Chris Miller's long drive to center was dropped by the fence scoring Hartz with the winning run.
The two teams combined for 27 runs on 40 hits and went through nine pitchers.
Tyler Noel picked up his first win of the season after throwing the final two innings. Stinger went 3-4 including his third home run of the season and drove in three runs. Coleman also went 3-4 with a double and his second home run of the season and two RBI while Kevin Miller was 3-4 with a double and two RBI's.
GAME ONE
Wilmington 300 601 3 13-21-4
Mansfield 031 040 6 14-19-1

Wilmington (8-7): Saienni, McLaughlin (4), Jt. Gegory (7), Snyder (L, 2-1) (7) and Aviola
2b – Gregory 2, Godwin 2, Aviola, Zechman HR – Anusky (1)
RBI – Anusky 6, Zechman 2, Umba 2, Aviola, Scott
Mansfield (9-13): Justin Garcia, Andy Young (4), Steve Tretter (4), Trevor Tellip (5), tyler Noel (W, 1-4) (5) and Tony Battisti
2b – Mike Hartz, Chris Miller, Nate Grove, Chris Coleman, Kevin Miller HR – Cody Stinger (3), Coleman (2), Battisti (1)
RBI – Stinger 3, Coleman 2, Kevin Miller 2, Mike Hartz, Battisti