RELEASE DATE: 3/08/09
FOR IMMEDIATE RELEASE: Mansfield baseball wraps up Florida trip with split against Pitt-Johnstown – Mounties score four in the seventh and hang on to win nightcap 9-8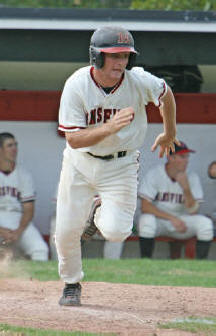 FT. PIERCE, FL – Tony Battisti drove in what proved to be the winning run with a single in the seventh inning to help Mansfield to a 9-8 win over Pitt-Johnstown in the second game of a doubleheader in Ft. Pierce Sunday morning.
Mansfield lost the opener 5-1.
Chris Zelko started and went 6 2/3 innings to pick up the win in the nightcap improving his record to 2-0 on the season.
Mansfield scored four runs in the top of the seventh on a two-run single by Cody Stinger, and run scoring singles by Chris Coleman and Battisti to give the Mountaineers a 9-2 lead.
Pitt-Johnstown rallied scoring two runs and had the bases loaded with two outs when Eric Rosenberger came in relief. UPJ's Matt Hanley hit a grand slam to close the gap to 9-8 but Rosenberger struck out the next batter looking to end the game.
In the opener, Justin Garcia started and took the loss. Battisti, Coleman and Matt Young all went 2-3 to lead the Mansfield offense with Mike Hartz adding a double.
Mansfield is now 7-12 on the and went 6-9 in 15 games in Florida.
The Mountaineers are scheduled to host Clarion in their home opener this Friday afternoon starting at noon.
Game One
UPJ 100 003 1 5-7-2
Mansfield 000 100 0 1-7-1

UPJ (6-1): Ben Watkins (W, 2-0), Eric Faint (6) and Justin Demek
2b – Matt Petrowsky, Matt Staub
RBI – Staub 2, Josh Campanella, Dan Mangini, Matt Hanley
Mansfield (6-12): Justin Garcia (L, 0-4), Trevor Tellip (6), Andy Young (7) and Tony Battisti
2b – Mike Hartz
Game Two
Mansfield 000 041 4 9-14-3
UPJ 000 020 6 8-4-2
Mansfield (7-12): Chris Zelko (W, 2-0), Eric Rosenberger (7) and Battisti
2b – Chris Coleman, Cody Stinger
RBI – Stinger 2, Chris Miller 2, Kevin Miller, Jared Johnson, Nate Grove, Battisti, Matt Young
UPJ (6-2): Kaleb Fleck (L), Mike Jewart (6), Ben Doak (7) and Demek
HR – Matt Hanley
RBI – Hanley 4, Demek