RELEASE DATE: 3/03/09
FOR IMMEDIATE RELEASE: Johnson and Stinger go yard to lead Mansfield to 10-3 win over University of the Sciences in Florida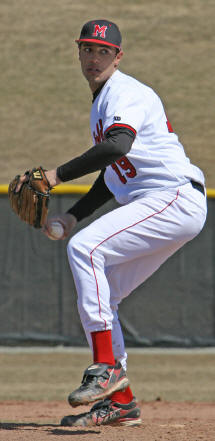 FT. PIERCE – Senior Justin Garcia allowed just one hit over the first seven innings while Cody Stinger and Jared Johnson each hit home runs to lead Mansfield to a 10-3 over the University of Sciences Tuesday afternoon in Ft. Pierce.
Garcia struck out stuck out six and walked just one in earning his first win of the season.
Mansfield scored twice in the first and added two more in the fourth and were never threatened in the game. Jared Johnson hit a solo home run in the sixth and Cody Stinger added a two-run shot in the eighth.
Stinger went 3-5 with a double, home run and five RBI's to lead the Mountaineer offense. Johnson was 2-2 with a home run and two RBI's and Nate Grove went 2-3 with a double and an RBI.
Mansfield will enjoy a much appreciated day off on Wednesday before playing Wilmington College (DE) in a doubleheader on Thursday.
University of Sciences 000 000 021 3-3-1
Mansfield 202 002 22x 10-18-2
US (0-5): Pete McCauley (L), Brandon Bucher (7) and Mark Forbes
2b – McCauley RBI – McCauley
Mansfield (5-8): Justin Garcia (W, 1-1), Steve Tretter (8) and Tony Battisti, Kevin Cressman (8)
2b – Jared Johnson, Cody Stinger, Nate Grove, Chris Miller, Mike Hartz HR – Stinger (2), Johnson (1)
RBI – Stinger 5, Johnson 2, Hartz, Grove