RELEASE DATE: 3/06/09
FOR IMMEDIATE RELEASE: Mounties lose to Slippery Rock 21-9 in Florida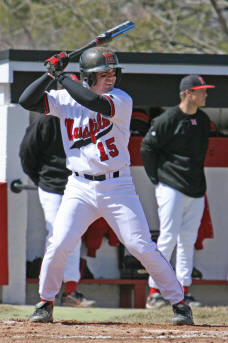 FT. PIERCE, FL – Slippery Rock scored in every inning in a 21-9 win over Mansfield in Ft. Pierce, FL Friday.
Slippery Rock built a 7-0 lead before Mansfield got on the scoreboard with a solo run in the bottom of the third.
Slippery Rock extended the lead to 19-3 until Mansfield scored six runs in the fifth.
Nate Grove went 3-4 with an RBI to lead the Mountaineer offense with Drew Bair and Mike Hartz each going 2-4.
It was the most runs scored on a Mansfield team since a 22-17 loss to Ashland during the Florida trip in 2007.
Both teams will face each other in a single game again on Saturday.
Slippery Rock 124 1 11 1 1 21-22-0
Mansfield 001 2 6 0 0 9-12-0
Slippery Rock (9-2): Rich Hocanson (W), Brett Vescovi (5) and Derek Diruscla
2b – Rich Michalek, Matt Adams 2, Scott Bender, Jacob Oswalt
HR – Michalek, Adams, Diruscla, Billy Messer, Bender, Mitch Monas
RBI – Adams 6, Michalek 4, Bender 3, Messer 2, Diruscla 2, Monas
Mansfield (5-9): Bernard Johnson (L, 1-1), Shane Ryan (3), Trever Ullrich (5), Joe Will (5), Steve Tretter (5), Andy Young (6) and Tony Battisti
2b – Cory Stinger
RBI – Mike Hartz 3, Chris Coleman 2, Drew Bair 2