RELEASE DATE: 4/30/09
FOR IMMEDIATE RELEASE: Mansfield has connection to Florida High School pitching phenom Patrick Schuster Ė Mitchell High School head baseball coach is former Mansfield All-American Scot Wilcox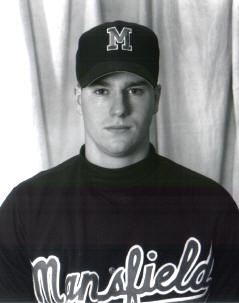 MANSFIELD -- Patrick Schuster of Mitchell High School in New Port Richey, FL has been all over the national news during the past couple weeks.
The senior left-hander started receiving attention from the national media last week when he tossed his fourth consecutive no-hitter and struck out 17 batters in a 5-0 win over Pasco High School on April 20.
Schuster was featured on ESPNís SportsCenter, CNN and most of the other national news organizations in the country as he approached the all-time high school record of six consecutive no-hitters.
Although he tied the Florida all-time record for consecutive no-hitters, Schusterís bid for the national mark came to an end Wednesday night when the steak came to an ended on a third-inning single in a win over Gaither High School.
While Schuster made the national news again after, the second most interviewed member of the team was head coach Scot Wilcox. The former Mountaineer baseball standout has been quoted by ESPN, CNN, Sports Illustrated, the Associated Press and other national news organizations.
Mansfield baseball fans will certainly remember Wilcox. The 1998 grad had a stellar baseball career for the Mountaineers from 1995-98 earning First Team All-American honors during his senior season. In 1998, Wilcox just missed become the first player in Pennsylvania State Athletic Conference history to achieve the triple crown of leading the conference in batting average, home runs and RBIís. He won the batting and home run title but finished second overall in RBI.
Wilcox finished that season with a school record .481 batting average along with a then school record 20 home runs and 60 RBI. He set a school and conference record with a .930 slugging percentage and was named the PSAC East Player of the Year.
During his career, Wilcox hit 40 home runs and drove in 157 runs. He still ranks among the top ten players in numerous categories. Wilcox was also renowned for his strong throwing-arm and dabbled struck out 13 batters in 10 innings on the mound during his career.
Wilcox played professionally with the Kalamazoo Kodiakís of the independent Frontier League after graduating and is currently teaching and coaching at Mitchell High School.