RELEASE DATE: 5/07/09
FOR IMMEDIATE RELEASE: Weather ends Mansfield's season early
LANCASTER – In a cruel twist of fate, Mother Nature, not another team, ended the Mansfield University baseball season at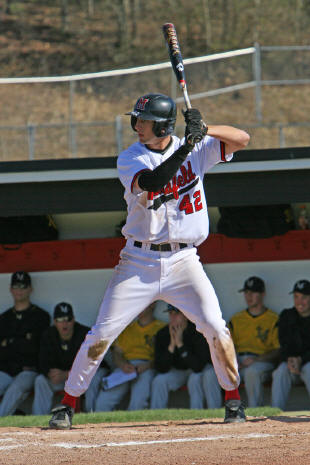 the PSAC Baseball Championship in Lancaster Thursday morning.
Because of the wet weather conditions that have forced postponements since Monday, the tournament game's committee was forced to modify the original double-elimination tournament into a single-elimination tournament.
That meant the four losing teams in the opening round, including Mansfield, would be sent home with the four winning teams playing for the championship today.
"Disappointing," said head coach Harry Hillson. "You feel badly for all the players, including our guys, who worked so hard to get here only to have it end like this. Championships aren't supposed to be determined by weather but there really weren't a lot of choices."
Mansfield, the #4 seed from the PSAC East, dropped a heartbreaking 14-13 decision to Mercyhurst, the #1 seed from the PSAC West, yesterday when Mercyhurst scored four runs over the last two innings to rally for the win.
Mansfield's Kevin Miller had a remarkable game going 6-6 from the plate with a home run and four RBI. Nate Grove was almost as impressive with a 5-6 performance.
Mansfield ends the season with a 23-30 overall record.