RELEASE DATE: 5/6/09
FOR IMMEDIATE RELEASE: Mercyhurst rallies in bottom of ninth to beat Mansfield 14-13 in opening round of PSAC Playoffs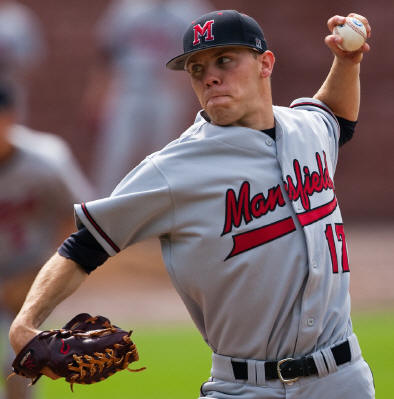 LANCASTER – Jonathon Keppler drove in the winning run with a walk-off double with one out in the bottom of the ninth to rally Mercyhust to a 14-13 win over Mansfield in the opening round of the PSAC Baseball Championship Tournament Wednesday afternoon at Clipper Magazine Stadium in Lancaster.
In a game that featured big momentum changes, Mercyhurst used three home runs to build a 10-3 lead after five innings in the final game of the opening round.
Mercyhurst scored four runs in the bottom of the first on Mansfield starter Eric Rosenberger, three of them coming on a three-run home run by John Blike.
Mansfield scored three runs in the top of the second, including one on an RBI single by Kevin Miller to close the gap to 4-3 but Mercyhurst scored two runs each in the second, third and fourth inning to increase its lead to what seemed an insurmountable 10-3 lead.
But Mansfield would rally with nine runs in the top of the sixth taking its first lead of the game on a monster three-run home run over the right field fence by Kevin Miller to rally for a 12-10 advantage.
Mansfield extended the lead 13-10 on an RBI single by Drew Bair in the top of the seventh before Mercyhurst rallied with three runs in the bottom of the eighth to tie the score at 13-13.
Mansfield got a runner on in the top of the ninth on a single by Chris Coleman but couldn't more into scoring position.
Mansfield pounded out 19 hits in the game to Mercyhurst's 14.
Kevin Miller went 6-6 including a three-run home run and four RBI to lead the Mountaineer offense. Senior Nate Grove was 5-6 while Chris Coleman went 3-6 with a double and RBI while Drew Bair drove in three run.
Mansfield will play Slippery Rock in a loser's bracket game sometime tomorrow.