RELEASE DATE: 5/01/09
FOR IMMEDIATE RELEASE: Revitalized Mansfield expects to contend for PSAC Championship – Mounties open against Mercyhurst Monday at 6:30 p.m. at Clipper Magazine Stadium in Lancaster -- All Mansfield's games will be broadcast and streamed on www.GoMounties.com
MANSFIELD – The Mansfield University baseball team got a new lease of life when the Mountaineers rallied to beat East Stroudsburg 16-15 on the final day of the regular season to earn the final spot in the eight-team PSAC Championship Tournament to be held May 4-7 at Clipper Magazine Stadium in Lancaster.
Mansfield, the number four seed from the PSAC East, will face Mercyhurst, the number one seed from the PSAC West, in the last of four first day games. First pitch for the Mansfield – Mercyhurst matchup is set for 6:30 p.m.
Other games that first day feature California (#2 West) vs. Shippensburg (#3 East) at 9:30 a.m., followed by West Chester (#1 East) vs. Lock Haven (#4 West) at 12:30 p.m. Kutztown (#2 East) will take on Slippery Rock (#3 West) at 3:30 p.m.
"Our guys are pretty fired up," Head Coach Harry Hillson said. "No matter what happens during the regular season, our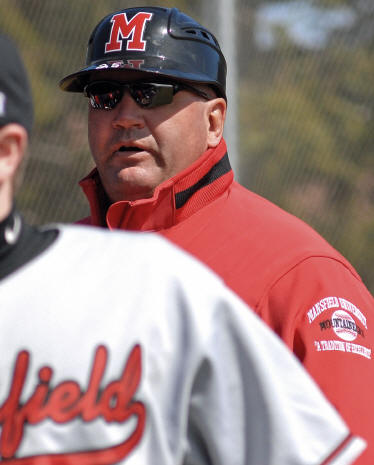 first goal ever year is to make the PSAC playoffs. Once you're in, it's a whole new season and we feel pretty good about our chances."
Mansfield has appeared in the PSAC Championship Tournament 14 times during Hillson's 23 seasons with Mansfield, claiming a record five PSAC crowns. Mansfield just missed making the playoffs of the final day of the season in 2008 and made its last playoff appearance in 2006. Mansfield last won the tournament in 1997.
With nine returning seniors, Hillson had high expectations for this year's team. But after being ranked in the preseason Top 50 in NCAA Division II, the Mountaineers won just three of their first 11 games. The slow start was disappointing to everyone and hard to figure out. It seemed when the team was hitting, the pitching and defense weren't there and when the pitching and defense were there the team wasn't hitting.
The Mountaineers playoff hopes seem doomed with they dropped their first eight conference games of the season against Kutztown and West Chester. After the final game with West Chester, Mansfield had a 10-22 overall and 0-8 PSAC East record.
But after hitting that low, Mansfield began to rise winning 13 of the final 20 regular season games including a split with East Stroudsburg to earn the playoff berth in the bottom of the seventh of the season's last contest.
It's just the second time in 23 seasons--the first was in 1987, Hillson's first season as head coach, that the Mountaineers earned a playoff berth with a losing overall record.
Hillson believes being the underdog will actually be beneficial for his team. "Most of the times we've been in the playoffs, we've been the team to beat," he said. "We did pretty well as the favorite but that puts a lot of pressure on a team. I think this team likes the underdog role and likes to surprise people."
Mansfield goes into the tournament as one of the hottest teams in the field and the Mountaineers have played much better lately, especially in must win situations.
Mansfield has two dominant pitchers in junior left-hander Eric Rosenberger and sophomore Chris Zelko. Both have named PSAC East Pitcher of the Week during the season and both are capable of going the distance.
Rosenberger ranks among the top pitchers in the league with a 6-3 overall record. He has thrown complete games in two of his 10 starts this season and also has a save. In his last start against East Stroudsburg, Rosenberger struck out a career-high 14 batters in 7.1 innings. He holds a 3.84 ERA on the season with 46 strikeouts in 63.1 innings worked.
Zelko struggled as a freshman last season after transferring in from Division I La Salle, but it's been a whole different story this year. Zelko has emerged into a solid starter who has compiled a 6-3 mark in the regular season including three complete games in eight starts. Zelko has stick out 33 hitters over 56 innings worked and has a 4.34 ERA.
Senior Tyler Noel, who started in his first six appearances, has moved to the bullpen and has proved very effective and has been a key for the late season success. Noel can go long middle relief or close a game and is the hardest thrower on the team. His 20 appearcences is the second most in the conference this year and he struck out 43 batters in 48.1 innings worked. Noel has a 2-2 record on the season with a team-high four saves.
Mansfield has always been known as a hitting team and this year, especially of late, that has proven true again. The Mountaineers are hitting .316 as a team led by sophomore outfield Kevin Miller's .379 average. Miller, who bats leadoff, is followed in the order by senior Matt Young who is hitting at a .307 clip.
Senior third baseman Cody Stinger is perhaps the most dangerous hitter in the lineup. Stinger is hitting .340 on the season and tops the team with seven home runs while driving in 41 runners. Stinger is followed in the order by sophomore Mike Hartz who earned a starting spot at shortstop early n the season. Hartz has gotten better as the season progressed and is batting .303 with 11 doubles and 25 RBI.
Chris Miller, older brother of Kevin, brings power and speed. The senior centerfielder is batting .343 with five home runs and a team-best 42 RBI. He has also stolen eight bases and scored 39 runs. Junior first baseman Chris Coleman is a left handed hitter with power who is hitting .352 on the year with four home runs and 29 RBI.
Senior Nate Grove has been one of the most consistent players during the season and has been red-hot down the stretch. Grove is batting .358 with his 15 extra-base hits including 10 doubles and four home runs.
Batting eighth is Drew Bair. The senior outfielder has been in the middle of a number of big, key plays down the run to the playoffs and is batting .308 on the year. Senior Tony Battista bats ninth in the order but is probably the most important defensive player on the field. Battista has started 46 of 52 games behind the plate batting .219 with three home runs. However he ranks second in the PSAC in throwing out runners picking off 14 so far this year.
Mercyhurst captured the PSAC West crown in its first season with the PSAC. The Lakers have strong, well-balanced team with solid starting pitching and power hitting.
Nick Gillung tops the staff with a 6 – 0 record and ranks among the conference ERA leaders at 3.23. He has struck out 52 hitters in 53 innings worked. Steve Grife is 5-1 on the year while striking out 66 hitters in 55.2 innings. John Mang leads the PSAC in wins at 8-1.
The offense is paced by a pair of sluggers in the Ethan Santora who tops the PSAC with 16 home runs and ranks among the conference leaders with 51 RBI. Fellow teammate Jeff Stoll is third in the PSAC with 12 home runs and also ranks among the conference RBI leaders.
Listed below are the matchups for the first day of the tournament as well as the schedule for all four days. More information will be forthcoming in the coming week.


Monday, May 4
Game 1 - (W2) California (Pa.) vs. (E3) Shippensburg, 9:30 a.m. (Bracket A)
Game 2 - (E1) West Chester vs. (W4) Lock Haven, 12:30 p.m. (Bracket A)
Game 3 - (E2) Kutztown vs. (W3) Slippery Rock, 3:30 p.m. (Bracket B)
Game 4 - (W1) Mercyhurst vs. (E4) Mansfield, 6:30 p.m. (Bracket B)

Tuesday, May 5
Game 5 - Game 1 Loser vs. Game 2 Loser, 9:30 a.m. (Loser eliminated)
Game 6 - Game 3 Loser vs. Game 4 Loser, 12:30 p.m. (Loser eliminated)
Game 7 - Game 1 Winner vs. Game 2 Winner, 3:30 p.m.
Game 8 - Game 3 Winner vs. Game 4 Winner, 6:30 p.m.

Wednesday, May 6
Game 9 - Game 5 Winner vs. Game 7 Loser, 9:30 a.m. (Loser eliminated)
Game 10 - Game 6 Winner vs. Game 8 Loser, 12:30 p.m. (Loser eliminated)
Game 11 - Game 9 Winner vs. Game 7 Winner, 3:30 p.m.
Game 12 - Game 10 Winner vs. Game 8 Winner, 6:30 p.m.

Thursday, May 7
If ONE game needed (Both Game 7 and Game 8 winners win in Games 11 and 12)
Game 13 - Championship Game, 1:00 p.m.

If TWO games needed (If only one of Game 7 or Game 8 winners win Games 11 or 12)
Game 13 - Game 11/12 Winner vs. Game 11/12 Loser, 12:00 p.m.
Game 14 - Championship Game, 3:00 p.m.

If THREE games needed (If both Game 9 and Game 10 winners win Game 11 and Game 12)
Game 13 - Bracket A (rematch of Game 11), 10:00 a.m.
Game 14 - Bracket B (rematch of Game 12), 1:00 p.m.
Game 15 - Championship Game, 4:00 p.m.