RELEASE DATE: 2/12/09
FOR IMMEDIATE RELEASE: Baseball scheduled to open 2009 season this weekend at Concord (WV)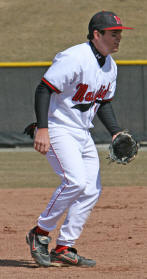 MANSFIELD Ė The Mansfield University baseball team, ranked 39th in the nation in the NCAA Division II preseason poll, is scheduled for its earliest opener in school history when the Mountaineers travel to Concord (WV) University for a pair of doubleheaders this Friday and Saturday.
Mountaineer head coach Harry Hillson, who enters his 23rd season at the helm just nine wins shy of reaching the 700 win milestone, expects to return to the PSAC playoffs again after missing out last season on the last day of the season.
Hillson has a veteran and dangerous team that could actually be deeper in pitching than in hitting this year. Thatís saying a lot after Mansfield led the PSAC last season in hitting with a .336 team batting average and in home runs (41).
Experience and depth are the key words for the Mansfield mound staff this season which features 15 pitchers, including 11 off of last yearís team.
The Mountaineers return the 2008 pitching staff completely intact while adding a number of key newcomers. Senior Irv Sleighter (Chambersburg/Chambersburg), a preseason All-Region selection and 1st Team All-PSAC East selection last season, posted a 6-2 record last year and ranked among the conferenceís ERA leaders (2.40).
Junior Justin Garcia (Blandon/Fleetwood) also returns to the starting rotation where he was 3-5 with a 5.15 ERA in 47.2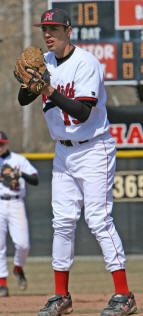 innings worked. Fellow junior Eric Rosenberger (Dillsburg/Northern) could emerge as the ace of the staff. The lefty went 5-4 in 2008 with 32 strikeouts in 56 innings worked.
Senior Tyler Noel (Irvona/Glendale) will be part of the starting rotation after coming of age last season. The hard-throwing Noel was used mostly in the bullpen in the 2008 season but did start five games in compiling a 4-2 record. He struck out 31 in 44.2 innings. Also vying for a place in the starting rotation will be freshman Jordan Garcia, Justinís younger brother.
A much improved Chris Zelko (Horseheads, NY/Horseheads) will see action on the mound in a starting role. Transfer Bernard Johnson could fill in as a starter or closer as the season progresses. Junior Shane Ryan (Levittown/Neshaminy) could also see time as a starter or in middle relief after going 3-1 with a 4.18 ERA in eight games last year.
Middle relief should come from junior Joe Will (Easton/Easton) who was second on the team with a 4.02 ERA in six appearances last season. Junior Zach Ullrich (Camp Hill/Cedar Cliff) and junior Trevor Tellip (Jermyn/Lakeland) will also be in the mix at middle relief. Tellip was 5-1 with three saves in 16 relief appearances in 2008, while Ullrich appeared in eight games including four starts.
The Mountaineers have plenty of solid options at closer in Johnson, Tellip, Ullrich or senior Rick Stewart (Reading/Muhlenburg).
Freshmen Steve Tretter (Ephrata/Ephrata) and Andy Young (Huntingdon/James Creek) will also see innings.
Although they lost two of the top hitters in the nation through graduation, donít expect a falloff in hitting from the Mountaineers this season. They still have plenty of pop.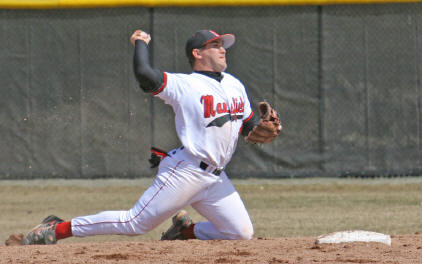 Senior Nate Grove (Williamsport/Williamsport) could move from the outfield to first base this season. A three-year starter, Grove batted .331 last season with 12 doubles, three home runs and 20 runs batted in. Junior Chris Coleman (Carbondale/Carbondale) has a dangerous bat and should also see time at first.
Senior Matt Young (Huntingdon/Huntingdon) is an outstanding defensive player who has started the last two seasons at second base. Young was named to All-PSAC East second team honors in 2008 after hitting a career-best .301 with two home runs while striking out just eight times in 173 at-bats. Junior transfer Matt Hamilton (Round Hill, VA/Loudoun Valley) and sophomore Mike Hartz (Dauphin/Central Dauphin) will provide backup.
Senior Drew Bair (Phoenix, AZ/Mountainridge) will move to shortstop after starting at third base last season. Bair will be returning to his natural position after hitting .307 in 2008. Hartz and sophomore Lance Ratchford (Oneonta, NY/Oneonta) will provide backup.
Hard-luck senior Cody Stinger (Chambersburg/Chambersburg) will start at third base after missing most of the 2007 and 2008 seasons with injuries. Stinger is a power-hitter who batted .333 in eight games and hit two home runs in just 24 plate appearances before suffering a season ending injury last season. Hartz, Justin Garcia, Ratchford and freshman Matt Miller (Montoursville/Montoursville) could all see time in back up roles.
Senior Chris Miller (Kenvil, NJ/Roxbury) will anchor the outfield from center after earning All-PSAC East second team honors last season. Miller hit .368 on the season with 17 extra-base hits including four home runs while also stealing nine bases.
Millerís younger brother Kevin Miller is projected to start in right field after transferring from Shippensburg after starting 30 and batting .296 as a freshman. He will be backed up by freshman Tony Fannick (Milton/Milton). Fannick, who starts on the menís basketball team, will join the baseball team after the completion of basketball season.
Sophomore Jared Johnson (Wyalusing/Wyalusing) who batted .432 in 22 games as a freshman will vie with transfer Brian Danner (Lewisberry/Red Land) for the starting spot in left field.
Transfer Dan Chevalier (Herdon, VA/Herdon) is a long-ball threat who should see plenty of bats as the designated-hitter .
Senior Tony Battisti (Horseheads,NY/Horseheads) emerged as the starting catcher last season hitting .256 with three home runs in 36 games as a junior. The strong-armed Battisti threw out eight runners and had a perfect 1.000 field percentage behind the plate. Freshman Kevin Cressman (Huntingdon/James Creek) and red-shirt freshman Levi Weiskopff (Mansfield/Mansfield) will also see time behind the dish.
Mansfield travels to Florida next week for 15 games before hosting Clarion in the home opener on March 13.