RELEASE DATE: 4/18/09
FOR IMMEDIATE RELEASE: Split with Millersville gives Mounties a leg up for PSAC playoff berth – Eric Rosenberger fires four-hitter in opener
Game One Boxscore
Game Two Boxscore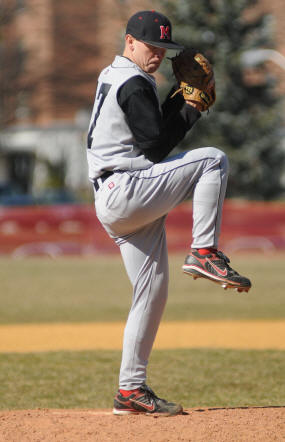 MILLERSVILLE – Eric Rosenberger threw a complete-game four-hitter and Matt Young and Cody Stinger each drove in two runs to lead Mansfield to a key 7-1 over Millersville in the first game of a PSAC East doubleheader Saturday afternoon.
Millersville won the nightcap 6-2.
It was a key series for the Mountaineers playoff hopes which greatly increased after beating Millersville in three of four games over the past two days. Mansfield, Millersville, and East Stroudsburg are all tied for the fourth and final playoff spot in the PSAC with identical 8-12 marks with just four games remaining in the conference season.
In the opener, Mansfield scored all seven runs in the top of the third inning with Young and Stinger hitting two-run singles along with RBI singles by Chris Miller and Drew Bair and an RBI double by Chris Coleman.
Millersville got its only run in the bottom of the inning on an RBI single by Ryan McCormick.
Rosenberger, who has been Mansfield most effective pitcher of late, never really got into any trouble during the contest scattering four hits and striking out five while walking one. The junior lefty won his third straight game to improve to 6-2 on the season.
In the nightcap, Millersville used a five run fourth inning to salvage a split and Derek Kline went the distance allowing six hits and striking out two.
Kevin Miller, Chris Coleman and Drew Bair all doubled for Mansfield with Coleman going 2-3 in the game.
Mansfield will play East Stroudsburg for four games in the final conference series of the season traveling to East Stroudsburg on and host East Stroudsburg on Saturday at Shaute Field. A sweep of the four-game series would give Mansfield the final playoff spot outright.
GAME ONE
Mansfield 007 000 0 7-9-0
Millersville 001 000 0 1-4-1

Mansfield (20-25, 8-11 PSAC East): Eric Rosenberger (W, 6-2) and Tony Battisti
2b – Chris Coleman, Drew Bair
RBI – Matt Young 2, Cody Stinger 2, Chris Miller, Chris Coleman, Drew Bair
Millersville (21-21, 7-12 PSAC East): Forrest Mengle (l< 5-3)< Michael Mesveskas (3), Andrew Hunt (7) and Miles Gallagher
2b – Cody Wile RBI – Lance Miller
GAME TWO
Mansfield 000 020 0 2-6-0
Millersville 010 500 x 6-6-1

Mansfield (20-26, 8-12 PSAC East): Andy Young (L, 2-1), Joe Will (4) and Tony Battisti
2b – Kevin Miller, Chris Coleman, Drew Bair RBI – Miller, Bair
Millersvile (22-21, 8-12 PSAC East): Derek Kline (W, 3-2 and Miles Gallagher
2b – Andrew Dochterman 2 3b – Cody Wile, Scott Slembacker
RBI - Slembakcer 2, Dochterman,Keith Spencer, Lance Miller