RELEASE DATE: 2/26/09
FOR IMMEDIATE RELEASE: Mansfield drops 9-6 decision to Mercyhurst in Florida opener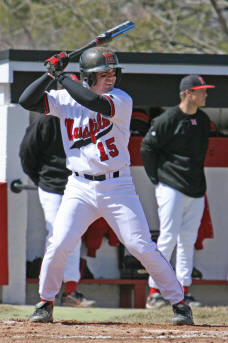 BOCA RATON, FL – Mercyhurst scored four runs in the fourth and sixth innings to beat Mansfield 9-6 in the opener of the Florida schedule for both teams Thursday afternoon in Boca Raton.
Mercyhurst (2-2) scored once in the second and added four more in the fourth to take a 5-0 lead. Mansfield (1-4) cut the score to 5-2 in the bottom of the fourth when Kevin Miller led off with a walk and advanced to second on a single by Chris Coleman. Drew Bair then doubled in Miller and Coleman scored on a wild pitch.
Tyler Noel started and took the loss going 3 2/3 innings striking out three while walking two. Miller went 2-4 from the plate with an RBI.
The two teams will meet again tomorrow in a single nine-inning game.
Mercyhurst 9 Mansfield 6
Mercyhurst 010 404 000 9-12-2
Mansfield 000 201 201 6-8-4
Mercyhurst (2-2): Nick Gillung (W, 1-0), Thurman Schaetzie (5), Eric Aschley (8), Jeremy Cressley (9) and Adam Schlessel
2b – Schlessel, Trey Bennett, Adam Gray RBI – Gray 2, Schlessel, Bennett, Craig Denman
Mansfield (1-4): Tyler Noel (L-0-2), Shane Ryan (4), Andy Young (6), Trevor Tellip (7) and Tony Battisti, Kevin Cressman (7)
2b – Drew Bair, Cody Stinger RBI – Bair, Kevin Miller, Dan Chevalier