RELEASE DATE: 2/27/09
FOR IMMEDIATE RELEASE: Mounties beat Mercyhurst 6-4 in 11 innings – Play #1 ranked Lynn on Saturday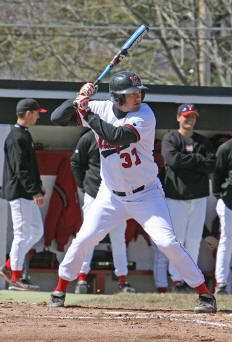 BOCA ROTAN – Mike Hartz led off the top of the 11th with a double and later scored on an error to help Mansfield to a 6-4 win over Mercyhurst at Lynn University in Boca Rotan Friday afternoon.
Mansfield scored four runs in the second inning and held a 4-2 lead going into the bottom of the ninth before Mercyhurst scored twice to send the game into extra innings.
Hartz doubled to lead off the 11th and scored of an outfield error with two outs to give Mansfield a 5-4 lead. The Mountaineers added their other run of the inning off another error.
Mercyhurst threaten in the bottom of the inning when Adam Gray led off with a double but was thrown out trying to steal third by Tony Battisti. Trevor Tellip, who came in relief an inning early, struck out the next batter and after an error got the final batter to ground out to earn the win.
Mansfield scored four runs in the second inning and starter Eric Rosenberger held a 4-2 after eight innings before Mercyhurst tied the game with a pair of runs off reliever Irv Sleighter in the ninth inning.
Nate Grove, Kevin Miller, and Hartz all had three hits in five at-bats to lead the Mountaineer's 14-hit offense.
Rosenberger was effective before giving way scattering four hits and striking out four while allowing two runs over the first eight innings.
Mansfield improves to 2-4 on the season and will play Lynn University, ranked #1 in the latest NCAA Division II National Poll, Saturday afternoon and Slippery Rock in the evening.
Mansfield 6 Mercyhurst 4
Mansfield 040 000 000 02 6-14-2
Mercyhurst 000 010 012 00 4-7-5

Mansfield (2-4): Eric Rosenberger, Irv Sleighter (9),Trevor Tellip (10) (W-1-0) and Kevin Cressman, Tony Battisti (9)
2b – Matt Hamilton, Dan Chevalier, Mike Hartz RBI – Hartz 2, Matt Young, Chevalier
Mercyhurst (2-4): Matthew Jimenez, Ryan Schreiber (8), Thurman Scaetzie (9), Jamie Walczek (10) (L, 0-1) and Adam Schlessel
2b – Adam Gray 2 RBI – Ethan Santora, Jonathan Keppler