RELEASE DATE: 2/28/09
FOR IMMEDIATE RELEASE: Mansfield baseball shutout 14-0 at #1 Lynn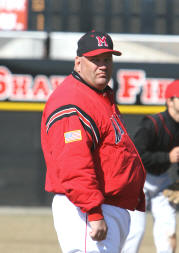 BOCA RATON, FL -- #1 ranked Lynn University pounded out 11 hits and held Mansfield to just two in a 14-0 win Saturday afternoon.
Lynn quickly showed why its ranked first in the nation in the latest NCAA Division II baseball poll scoring six runs over the first three innings to improve to 13-1 on the season.
Mansfield (2-4) never threatened getting only one runner as far as second base in the 7th inning.
Joe Will started and was charged with the loss after going 2.2 innings. Lance Ratchford and Chris Coleman had the Mountaineers only hits.
Mansfield plays Slippery Rock in a late game Saturday.
Lynn 14 Mansfield 0
Mansfield 000 000 0 0-2-3
Lynn 132 314 x 14-11-3
Mansfield (2-5): Joe Will (L-0-1), Zach Ullrich (3),Mike Martin (6) and Tony Battisti
Lynn (13-1): Rouah (W, 3-1), Franklin (7) and Foutch
2b – Toro, MacDougall, Crowe 3b – Flores
RBI – Toro 5, Atencio, Flores, MacDougall, Perez, Sedley, Crowe