RELEASE DATE: 4/21/09
FOR IMMEDIATE RELEASE: Mounties pound out 17 runs in opening win over Lock Haven – Drop nightcap 9-7 in extra innings
Game One Boxscore
Game Two Boxscore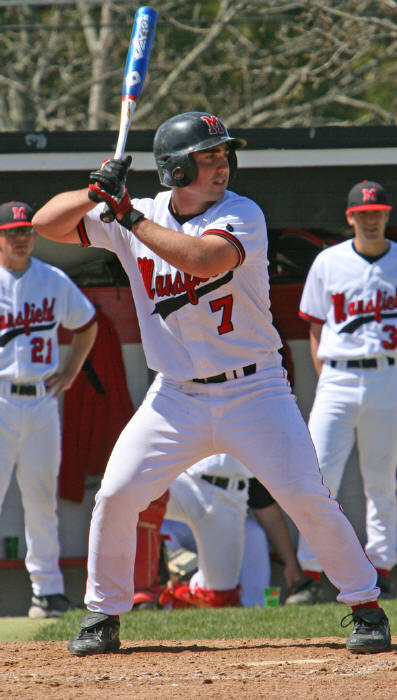 MANSFIELD – Kevin Miller hit two home runs and had four RBI's to lead Mansfield to a 17-4 win over Lock Haven in the opening game of a non-conference doubleheader at Shaute Field Tuesday afternoon. Lock Haven rallied for a 5-0 deficit to win the nightcap 9-7 in eight innings.
In the opener, Mansfield erased a 2-0 Lock Haven lead with three runs in the bottom of the second the first coming on a leadoff home run over the centerfield fence by Kevin Miller. Mansfield added three more in the third before Lock Haven closed the gap to 6-4 with two runs in the top of the fourth.
But Mansfield would explode for nine runs the following inning. All nine runs scored with two outs in the inning on eight hits sandwiched around a walk.
Mansfield added two more runs in the bottom of the sixth with Kevin Miller again leading off the inning with a solo home run. Senior Matt Young followed with a home run over the left field fence.
Mansfield pounded out 17 hits including two home runs by Kevin Miller. Miller, Young and Kevin Cressman each had three hits in the game while Miller also drove in four runs.
Junior Justin Garcia settled down after a shaky first inning to earn his third win in four decisions this year. Garcia scattered eight hits and allowed three earned runs while striking out five over six innings. Senior Trevor Tellip closed out the seventh striking out two of the four batters he faced.
In the nightcap, got three solo home runs in the bottom of the first including a leadoff shot by Kevin Miller. Matt Young went back-to-back after Miller and Mike Hartz hit a home run over the scoreboard two batters later to give Mansfield a 3-0 lead.
The Mountaineers added two more runs in the second before Lock Haven scored twice in the fourth and fifth inning to cut the lead to 5-4. Mansfield added two more runs in the bottom of the fifth on a two-run home run by senior Drew Bair but Lock Haven came right back and tied the game with three runs in the top of the sixth, scoring all three runs on just one hit.
Mansfield had two runners on in the bottom of the seventh but failed to score.
In the top of the eighth, a two-out bloop single over the reach of outstretched second baseman Matt Young fell in and scored what would prove to be the winning runs.
Mansfield wraps-up the regular season with two games at East Stroudsburg on Friday with the same two teams meeting for a doubleheader at Shaute Field on Saturday. Mansfield needs to win three of the games against East Stroudsburg and have Kutztown beat Millersville at least once in their four-game series to earn a PSAC playoff berth.
GAME ONE
Lock Haven 200 200 0 4-8-3
Mansfield 303 092 x 17-17-3
Lock Haven (16-31): Tyler Rumsey (L, 1-5), Tyler Golden (3), Bobby Fiala (5), Christensen (6) and Ted Stake
2b – Zach Schuler 2, Kevin Kochka RBI – Evan Petro, Schuler, Scott Gaston
Mansfield (21-26): Justin Garcia (W, 3-1), Trevor Tellip (7) and Tony Battisti
2b – Matt Young, Mike Hartz, Kevin Cressman HR – Kevin Miller 2 (4), Matt Young
RBI – Kevin Miller 4, Young 2, Chris Coleman 2, Chris Miller 2, Cressman 2, Levi Weiskopff,Battisti
GAME TWO
Lock Haven 000 223 02 9-12-1
Mansfield 320 020 00 7-11-3
Lock Haven (17-31): Jeremy Lambardo, Dan Knapp (5) (W, 1-0) and Ted Stake
2b - Matt Palko HR – Palko (9), Matt McCamley (1)
RBI – Jorday Yohn 3,Palko 2, Evan Petro, Ryan Griffin, McCamley
Mansfield (21-27): Shane Ryan, Joe Will (6), Bernard Johnson (6), Tyler Noel (7), Jordan Garcia (8) (L, 2-2) and Tony Battisti
2b – Kevin Miller HR – Kevin Miller (5), Matt Young (3), Mike Hartz (1), Drew Bair (3)
RBI – Hartz 2, Bair 2, Devin Miller, Young, Chris Miller