RELEASE DATE: 3/31/09
FOR IMMEDIATE RELEASE: Mounties snap four-game losing streak with sweep at Lake Erie
Game One Boxscore
Game Two Boxscore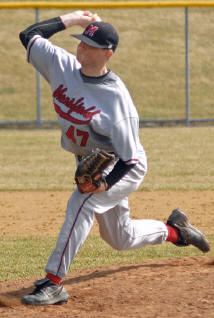 Eastlake, OH – Mansfield pounded out 22 hits in the opener and held off a seventh inning rally in the nightcap to sweep Lake Erie 19-4, 4-3 in a non-conference baseball doubleheader Tuesday afternoon.
In the opener the Mountaineers pounded out 22-hits and scored in every inning except the seventh to snap a four-game losing streak. It was the most runs scored by a Mountaineer team since a 22-7 win over Clarion in 2006 and the most hits in a game since a 23-hit performance in a 25-8 win over Bloomsburg in 2000.
Cody Stinger hit a two-run home run in the first inning and Chris Miller added two-run home run in the fourth inning. Stinger went 4-5 with a double, home run and two RBI. Miller was 3-5 with a double, home run and five RBI while Chris Coleman went 4-6 with a double and three RBI. Drew Bair was 2-3 with a double and three RBI.
Andy Young went the first four innings to improve to 2-0 on the season. Young got relief from Shane Ryan and Zach Ullrich.
In the nightcap, Mansfield scored twice in the first inning on a pair of Lake Erie errors and Chris Miller's RBI and took a 4-0 lead into the bottom of the seventh. But Lake Erie rallied with two outs on a three-run home run by Ryan Rua to pull to 4-3. Mansfield reliever Joe Will, who came in the fifth inning for starter Jordan Garcia, ended the threat by striking out the final batter.
Mansfield was outhit in the game 8-6 but left just four runners on base to Lake Erie's seven.
Garcia, a freshman, scattered five hits and struck out one while walking none over four innings to improve to 2-1 on the season. Will stuck out four over three innings. Kevin Miller went 2-4 to lead the offense.
Mansfield improves to 12-22 overall and host Bloomsburg in a PSAC East doubleheader on Friday.
GAME ONE
Mansfield 213 454 0 19-22-2
Lake Erie 003 001 0 4-6-2
Mansfield (11-22): Andy Young (2-0), Shane Ryan (5), Zach Ullrich (7) and Tony Battisti, Kevin Cressman (5)
2b – Cody Stinger, Chris Coleman, Chris Miller, Drew Bair, Lanceford HR – Stinger (4), Miller (3)
RBI – Miller 5, Coleman 3, Bair 3, Stinger 2, Jared Johnson 2, Ratchford 2, Mike Hartz
Lake Erie (3-16): Paul Roskos (L), Alex Kanareff (4), Zach Justice (4), Kyle Koberna (6), Vince Hug (7) and Ben Reed
HR –Matt Vanni RBI – Vannie 3, Ray Deckman
GAME TWO
Mansfield 200 001 1 4-6-0
Lake Erie 000 000 3 3-8-4
Mansfield (12-22): Jordan Garcia (W, 2-1), Joe Will (5) (s-2) and Tony Battisti
RBI – Chris Miller, Tony Battisti
Lake Erie (3-17): Michael Bakes (L, 0-4), Cameron Castro (6), Dan Mason (7), Malcom Tufts (7) and John Christani
2b – Ben Reed HR – Ryan Rua RBI – Rua 3