RELEASE DATE: 3/21/09
FOR IMMEDIATE RELEASE: Noel sharp in nightcap but Mansfield drops two to Kutztown in PSAC East baseball
Game One Box Score
Game Two Box Score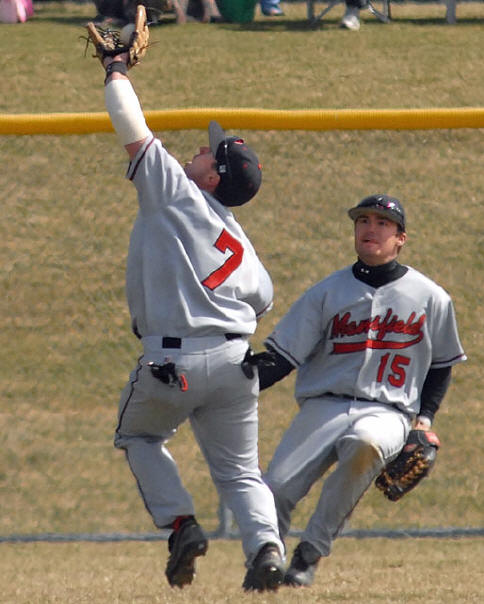 KUTZTOWN – Tyler Noel had one of his best outing of the season striking out six and allowing no earned runs but lost 2-1 in the nightcap of a PSAC East doubleheader at Kutztown Saturday afternoon.
Kutztown (21-5, 8-0) also won the opener 6-1 remain unbeaten in PSAC East play.
In the nightcap, Mansfield had runners at first and second with no outs when Chris Coleman led off the top of the second with a double and Nate Grove walked. A sac bunt by Chris Miller moved the runners up but Coleman was out at the plate on a passed ball and a pop up ended the threat.
Kutztown scored two unearned runs with two outs in the bottom of the inning on a single by Corey Buletza.
Mansfield got the first two runners on again in the fifth on back-to-back Kutztown errors but couldn't put a run across. The Mountaineers closed to 2-1 in the top of the sixth when Cody Stinger led off with a double down the left field line and scored on Coleman's single.
Mike Bucklin relieve Kutztown starter Trent Mertz in the seventh striking out the first batter before Brian Danner walked. But Bucklin retired the next two batters to preserve the win.
Noel scattered eight hits over six innings and walked just one. Coleman went 2-3 with a double and RBI while Stinger was also 2-3 with a double to lead the Mountaineer offense.
In the opener Ryan Cassidy limited Mansfield to just one hit, a single by Coleman in the fourth inning. Senior Irv Sleighter made just his second appearance of the season, allowing seven hits and three earned runs over 3.1 innings to take the loss.
Mansfield travels to IUP for non-conference doubleheader on Monday.