RELEASE DATE: 3/23/09
FOR IMMEDIATE RELEASE: Mounties win nightcap to earn split with IUP – Andy Young picks up first collegiate win
Game One Box score
Game Two Box score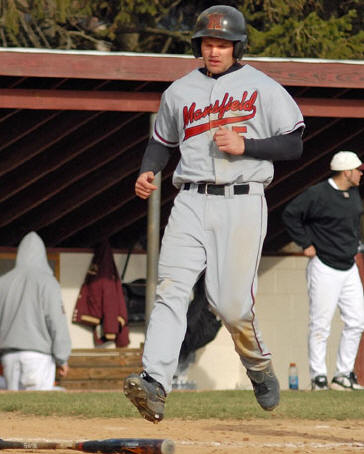 INDIANA, PA -- Freshman Andy Young picked up his first collegiate win and Mansfield rapped out 12 hits in a 12-5 win at IUP in the nightcap of a PSAC interdivisional matchup Monday afternoon.
IUP won the opener 11-4.
Young had a solid performance on the mound giving up four hits and striking out four over four innings. Joe Will picked up the save scattering three hits and striking out two over the final three innings.
Mansfield scored once in the first on Cody Stinger's sac fly and added two more in the second on a two-run double by Jared Johnson. The Mountaineer increased the lead to 5-1 when Nate Grove singled to drive in two runs in the top of the third.
Kevin Miller went 3-5 at the plate with his older brother Chris Miller going 2-5. Matt Young with 2-3 and Johnson and stinger each drove in three runs.
In the opener, the Mountaineer managed just four hits in an error-plagued game. IUP scored twice in each of the first two innings before Mansfield cut the lead to 4-2 on a two-run double by Tony Battisti in the top of the fourth inning.
But IUP would score another run in the bottom of the inning and add six more in the fifth to put the game out of reach.
Mansfield travels to West Chester on Friday for a PSAC East doubleheader.
GAME ONE
Mansfield 000 202 0 4-4-3
IUP 220 160 x 11-11-5
Mansfield (9-18): Justin Garcia (L, 0-5), Steve Tretter (5), Jordan Garcia (5) and Tony Battisti
2b – Battisti RBI – Battisti 2, Mike Hartz, Cody Stinger
IUP (10-7): Steve Mondschein (W, 1-0), Craig Hibell (4), Josh Hilderbrand (7) and Dylan Songer
2b - Roland Thiele, Ryan Mostyn 3b – Shane Melhorn, Mostyn
RBI – Lee Bainbridge 3, Melhorn 3, Mostyn 2, Mark Woleslagle, Sean Foor
GAME TWO
Mansfield 122 030 4 12-12-4
IUP 012 101 0 5-7-5
Mansfield (10-18): Andy Young (W, 1-0), Joe Will (5) (s) and Kevin Cressman
2b – Jared Johnson RBI – Johnson 3, Cody Stinger 3, Nate Grove 2, Kevin Miller, Chris Coleman
IUP (10-8): Chase McNutt (L, 0-1), Mitch Perez (5) and Mark Woleslagle
2b – T.J. Nichols, Roland Thiele RBI - Jeff Lluberes, Nichols, Woleslagle