RELEASE DATE: 4/24/09
FOR IMMEDIATE RELEASE: Grove knocks in five runs in nightcap to keep Mountie baseball playoff hopes alive – Mansfield needs to sweep ESU at Shaute Saturday to earn playoff berth
Game One Boxscore
Game Two Boxscore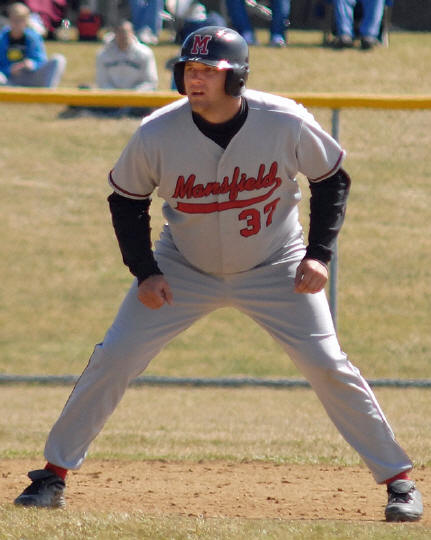 MANSFIELD – Senior Nate Grove drove in five runs and Chris Zelko picked up his fifth win of the season to lead Mansfield to 9-5 win over East Stroudsburg in the second game of a PSAC East doubleheader at East Stroudsburg Friday afternoon.
East Stroudsburg won the first 2-1 in eight innings.
It was a must win for the Mountaineers who now need to beat East Stroudsburg twice on Saturday at Shaute to earn a PSAC playoff berth.
In the nightcap, East Stroudsburg stuck first with a lone run in the first before Mansfield jumped on top with a pair of runs in the second coming off an RBI single by Grove and sacrifice fly by Tony Battisti. Mansfield increased the lead to 5-1 scoring three runs an inning later with Chris Coleman driving in two of them with a double and Grove the other on a sacrifice fly.
East Stroudsburg closed the gap to 5-3 with runs in the third and fourth. Mansfield scored twice with two outs in the top of the fifth on a two-run single by Grove. But East Stroudsburg got those two runs back in the bottom of the inning and trailed 7-5 going into the top of the seventh.
Mansfield scored two insurance runs in the top of the inning on a sacrifice fly by Coleman and RBI double by Grove.
Zelko went 4.2 innings to pick up his fifth win in eight decisions this year. The sophomore right hander scattered six hits and strike out one while giving up two earned runs. Tyler Noel picked up his fourth save of the season allowing just three hits over the final 2.1 innings while striking out two.
Grove went 3-3 with a double and five RBI while Coleman was 3-5 with a double and three RBI.
Mark Angelo went 3-3 with a home run and two RBI to lead East Stroudsburg.
The opener featured perhaps the best pitching dual in the PSAC this season with Mansfield junior Eric Rosenberger and ESU's Jeremy Gigliotti squaring off. Rosenberger struck out a career-high 14 batters in 7.1 innings while walking just one. He scattered five hits and was charged with two runs. Gigliotti, who had a streak of 31-consective innings on not allowing a run snapped by Mansfield in the sixth inning, was equally as impressive striking out 10 and walking one in seven innings of work.
Rosenberger retired the first nine batters he faced including striking out the side in the third. In the fourth inning Matt Bortz drew a leadoff walk but was thrown out by Battisti trying to steal second. The next batter, Mark Angelo hit a home run to give East Stroudsburg a 1-0 lead.
Mansfield, which stranded two runners each in the first and second innings, tied the game in the top of the sixth when Cody Stinger drew a leadoff walk, stole second and third and then scored on an RBI single by Coleman.
Stinger led off the eighth with a single and advanced to third but couldn't score.
East Stroudsburg got a leadoff single by Brendan O'Connor in the bottom of the eighth off Noel. A sac bunt attempt was popped into the air and caught by Battisti before Edwin Padia singled to put runners on first and second.
Noel came in to relieve Rosenberger and East Stroudsburg scored the winning run after a couple of wild pitches. Mansfield stranded eight runners to East Stroudsburg's three.
Mansfield must win both games tomorrow because East Stroudsburg holds the tie-breaker if both teams finish with the same conference record. First game is set for 1 p.m.
It is also Senior Day with seniors Drew Bair,Tony Battisti, Nate Grove, Chris Miller, Tyler Noel, Irv Sleighter, Cody Stinger, Trevor Tellip and Matt Young honored in pregame ceremonies.
GAME ONE
Mansfield 000 001 00 1-7-1
East Stroudsburg 000 100 01 2-5-1

Mansfield (21-28, 8-13 PSAC East): Eric Rosenberger (L, 6-3), Tyler Noel (8) and Tony Battisti
2b – Nate Grove RBI – Chris Coleman

East Stroudsburg (31-20, 9-12 PSAC East): Jeremy Gigliotti, Christian Saveri (8) (W, 4-5) and Brendan O'Connor
HR – Mark Angelo RBI – Angelo
GAME TWO
Mansfield 023 020 2 9-11-4
East Stroudsburg 101 120 0 5-9-1
Mansfield (22-28, 9-13 PSAC East): Chris Zelko (W, 5-3), Tyler Noel (5) (s-4) and Tony Battisti
2b – Kevin Miller, Chris Coleman, Gate Grove RBI – Grove 5, Coleman 3,Battisti
East Stroudsburg (31-21, 9-13 PSAC East): Tom Admire (L, 5-4), Jason Colletti (3), Bill Hezel (6) and Brendan O'Connor
2b – Edwin Padua HR – Mark Angelo RBI – Angelo 2, Mike Bortz, Ryan Guarino, John Pisker