RELEASE DATE: 2/13/09
FOR IMMEDIATE RELEASE: Mounties split at Concord to open 2009 season – Rosenberger picks up win in nightcap – Coleman hits two-run home run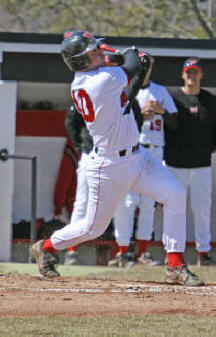 ATHENS, WV – Chris Coleman blasted a two-run home run and Chris Miller went 3-3 with three RBI's to lead Mansfield to a 7-4 win in the nightcap of a season opening doubleheader at Concord University Friday afternoon. Concord won the opener 7-5.
It was the earliest opener in Mansfield's 142 year history. Head coach Harry Hillson moved to within eight games of his 700th victory.
In the nightcap, Mansfield scored the game's first run on a two-out RBI single by Chris Miller. The Mountaineers added three more in the third on an RBI single by Cody Stinger and two-run double by Miller.
Mansfield added a single run in the fifth on a bases-loaded walk by Kevin Cressman and took a 7-2 lead into the bottom of the seventh after Coleman drilled a monster two-run home run.
Eric Rosenberger started on the mound for the Mountaineers scattering nine hits and striking out five over 6.2 innings before being relieved with two on and two outs by Trevor Tellip in the bottom of the seventh. Tellip got the only batter he faced to fly out to end the game and earn a save.
In the opener, Concord jumped out to a 6-0 lead after scoring four runs in the fifth inning before Mansfield answered with three runs in the top of the sixth with two of those runs coming off a double by Drew Bair to close the gap to 6-3.
Concord added a solo run in the bottom half of the inning and Mansfield rallied with two more runs in the top of the seventh on RBI singles by Chris and Kevin Miller. The Mountaineers had the tying run at the plate before the final batter popped up to end the game.
Tyler Noel took the loss scattering four hits over the first four innings and striking out two. Bair had two doubles and two RBI's while Nate Grove went 3-4.
The two teams meet in doubleheader on Saturday.
GAME ONE
Mansfield 000 003 2 5-11-0
Concord 110 041 x 7-10-0

Mansfield (0-1): Tyler Noel (L, 0-1), Chris Zelko (5), Shane Ryan (5) and Tony Battisti, Chris Coleman (6)
2b – Drew Bair (2), Cody Stinger RBI – Kevin Miller, Bair, Chris Miller
Concord (1-0): Devin Smith (W, 1-0), Drew Bailey (7) and Will Moody
2b – Blake Klaiber HR – Greyson Schram
RBI – Schram 2, Brooks Cullen 2, Klaiber, Tim Merolillo
GAME TWO
Mansfield 103 010 2 7-10-1
Concord 101 000 2 4-9-0
Mansfield (1-1): Eric Roseberger (W, 1-0), Trevor Tellip (7) (s-1) and Kevin Cressman
2b – Chris Miller HR – Chris Coleman (1)
RBI – Miller 3, Coleman 2, Cressman, Cody Stinger
Concord (1-1): Allen Schurdell (L, 0-1), Trey Smith (7) and Moody
2b - Donovan Huffer RBI – Schram 2, Merolillo 2