RELEASE DATE: 3/14/09
FOR IMMEDIATE RELEASE: Hillson bid for 700th win comes up just short in split with Clarion – Eric Rosenberger stellar in opener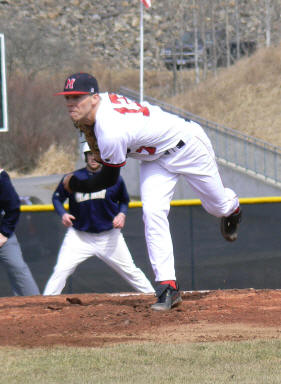 MANSFIELD – Eric Rosenberger scattered five hits in a 2-0 win in the opener but a seventh inning rally fell just short in the nightcap in a 3-2 loss as Mansfield split a doubleheader with Clarion Saturday afternoon at Shaute Field.
It was the earliest home opener since Mansfield fielded its first baseball team in 1867 and inched head coach Harry Hillson to within one win of become just the third head coach in Pennsylvania collegiate baseball history to reach the 700 win milestone.
In the opener, Rosenberger improved to 3-0 on the season scattering five hits and striking out one in 6.2 innings. Trevor Tellip picked up his second save of the season getting the game's final batter to ground out with a runner on.
Eric Panko went the distance for Clarion allowing six hits and striking out seven.
Chris Miller broke up a 0-0 tie when he led off the bottom of the fourth with a solo home run. The Mountaineers got an insurance run n the bottom of the sixth when Nate Grove led off with a double to center. Lance Ratchford pinched ran for Grove and scored with Chris Coleman singled.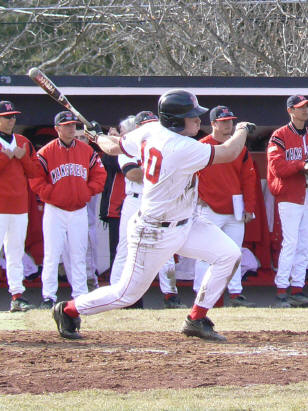 Coleman was the only Mountaineer with two hits gong 2-3 with a double and RBI.
In the nightcap Clarion scored a single run in the top of the third off Mansfield starter Chris Zelko on an RBI single by Matt Rossi. Clarion scored twice more in the top of the sixth to take a 3-0 before Mansfield closed to 3-1 on a RBI single by Cody Stinger after Coleman doubled with two outs.
In the bottom of the seventh, Mansfield pulled to 3-2 on an RBI single by Chris Miller and Mansfield had two runners on with two outs before Clarion reliever Brandon Slater got the final batter to ground out to short.
Zelko was charged with the loss allowing just one run over 4.1 innings while scattering six hits. Chuck roller picked up his first win of the season for Clarion with Slater getting the save. Chris and Kevin Miller each had two hits for Mansfield.
Mansfield is now 8-13 on the season and travels to Columbia Union this Sunday.
GAME ONE
Clarion 000 000 0 0-5-1
Mansfield 000 101 0 2-6-1
Clarion (1-9): Eric Panko (L, 0-3) and Matt White

Mansfield (8-12): Eric Rosenberger (w, 3-0), Trevor Tellip (7) (s-2) and Tony Battisti
2b – Nate Grove, Chris Coleman HR – Chris Miller (1)
RBI – Miller, Coleman
GAME TWO
Clarion 001 002 0 3-10-1
Mansfield 000 001 1 2-7-2
Clarion (2-9): Chuck Roller (W-1-0), Brandon Slater (7) (s-1) and Chad White
2b – Adam Foltz, Mark White, Jeremy Womer RBI – Matt Rossi, Sean Zimmerman, Mark White
Mansfield (8-13): Chris Zelko (L, 2-1), Tyler Noel (5), Trevor Tellip (6), Andy Young (7) and Tony Battisti
2b – Chris Coleman RBI – Chris Miller, Cody Stinger