RELEASE DATE: 4/12/09
FOR IMMEDIATE RELEASE: Mansfield baseball home opener postponed until Saturday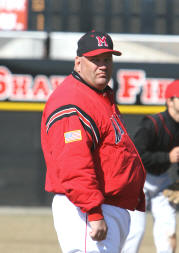 MANSFIELD – The Mansfield University baseball home opener has been postponed from this Friday and moved back to Saturday when the Mountaineers will host Clarion University in a doubleheader starting at 1 p.m. at Shaute Field.
Mansfield had been scheduled to host Clarion on Friday and travel to Clarion on Saturday. Instead the two programs will just play one doubleheader at Mansfield on Saturday.
Mansfield University head baseball coach Harry Hillson is just two wins shy of his 700th career victory. Only two coaches in Pennsylvania collegiate baseball history have reached the 700 win milestone and Hillson, now in his 23rd season at the helm, would be the fastest collegiate coach in Commonwealth history to reach the historic milestone.