RELEASE DATE: 3/02/09
FOR IMMEDIATE RELEASE: Mounties split with Chestnut Hill in Florida – Bernard Johnson goes distance in night cap striking out nine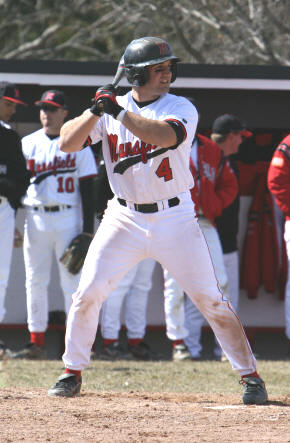 FT. PIERCE, FL – Bernard Johnson picked up his first win of the season tossing a complete-game four-hitter to lead Mansfield to a 6-2 win over Chestnut Hill College in the second game of a doubleheader at Ft. Pierce Monday.
Mansfield lost the opener 5-4.
Johnson struck out nine over seven innings and walked three.
Mansfield scored all six runs in the sixth inning to pick up its fourth win in 12 games this season. Matt Young and Chris Miller each went 2-4 with a double to lead the Mountaineer offense.
In the opener, Chestnut Hill scored three runs in the first inning as a result of two Mansfield errors and held a 5-1 leading going into the bottom of the seventh.
Mansfield, which had a 9-4 advantage in hits, rallied to score three runs in the seventh and had runners on first and third but couldn't push the tying run across when Nate Grove lined-out sharply to third to end the game.
Tyler Noel had a solid effort on the mound going the distance scattering four singles while striking out nine and allowing no walks.
Young went 2-4 with an RBI and Kevin Miller was 2-3 to pace the offense.
Mansfield plays University of Sciences in a single game on Tuesday.
GAME ONE
Chestnut Hill 301 010 0 5-4-0
Mansfield 001 000 3 4-9-3
Chestnut Hill (1-0): Ryan Weber (W, 1-0), John Flack (5), Justin Wiercinski (7) and Andrew Donofry
RBI – D.J. Santoro, George Kochu
Mansfield (3-8): Tyler Noel (L, 0-3) and Tony Battisti, Kevin Cressman (5)
2b – Chris Miller, Mike Hartz RBI – Kevin Miller 2, Matt Young, Hartz
GAME TWO
Mansfield 000 006 0 6-9-0
Chestnut Hill 000 002 0 2-4-3
Mansfield (4-8): Bernard Johnson (W, 1-0) and Battisti
2b – Young, Chris Miller, Brian Danner RBI – Nate Grove, Drew Bair, Battisti, Hartz
Chestnut Hill (1-1): Robert Williams (L, 0-1), Wiercinski (6), Nick DeMalto (6) and Bryan Henry
2b – D.J. Santoro RBI – Jimmy Young, Bryan Henry