RELEASE DATE: 3/05/09
FOR IMMEDIATE RELEASE: Mounties sweep Bloomsburg in first conference wins of the season – Kevin Miller perfect 7-7 at-plate in twinbill
Game One Boxscore
Game Two Boxscore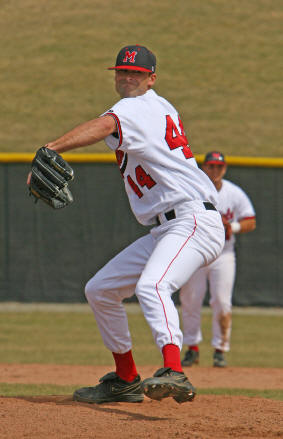 MANSFIELD – Chris Coleman and Nate Grove both hit home runs to rally Mansfield to a win in the opener and Chris Zelko threw six innings of one-hit ball in the nightcap to lead Mansfield to a 6-4, 6-3 sweep over Bloomsburg in a PSAC East doubleheader at Shaute Field Sunday afternoon.
In the opener, Bloomsburg took a 4-0 lead off Mansfield starter Irv Sleighter going into the bottom of the fourth when Mansfield exploded for six runs keyed by a leadoff home runs by Coleman and a monster two-run home run over the centerfield scoreboard by Grove.
Tyler Noel relieved Sleighter in the fourth to earn his first win of the season while Joe Will picked up the save going the final three innings allowing two hits and striking out two.
Kevin Miller went 4-4 for Mansfield while Grove was 2-3 with a double, home run and two RBI.
In the nightcap, Zelko was almost unhittable retiring the first nine batters he faced and not allowing a hit until Kevin Ward's two-run home run in the sixth inning. Zelko struck out two in improving to 3-3 on the season. Noel came in relief in the seventh retiring both batters he faced to earn his first save of the season.
Kevin Miller again led the Mountaineer offense going 3-3 with a home run and three RBI. Tony Battisti hit his second home run of the season, a three-run shot over the centerfield fence in the fourth inning.
Mansfield earned its first two conference wins of the season and extended a season long winning streak to four games.
Both teams are schedule to meet in Bloomsburg for a doubleheader on Monday.
GAME ONE
Bloomsburg 111 100 0 4-7-1
Mansfield 000 600 x 6-9-0
Bloomsburg (12-29, 3-10): V. Voorhees (L, 3-3), M. Kline (4) and K. Kacelowicz
2b – Tony Donofry HR – Kacelowicz (2) RBI – Mike Austin 2, Donofry, Kacelowicz

Mansfield (12-22, 1-8): Irv Slieghter, Tyler Noel (4) (W, 2-6), Joe Will (5) (s-2) and Tony Battisti
2b – Cody Stinger, Nate Grove HR – Chris Coleman (3), Grove (2)
RBI – Grove 2, Kevin Miller, Matt Young, Stinger, Coleman
GAME TWO
Bloomsburg 000 102 0 3-1-0
Mansfield 120 300 x 6-7-4
<![if !supportLineBreakNewLine]>
<![endif]>
Bloomsburg (12-20, 3-11): Grant Kernaghan (L, 3-3) and Cory Eisenhart
HR – Kevin Ward (5) RBI – Ward 3
Mansfield (13-22, 2-8): Chris Zelko (W, 3-3), Tyler Noel ((7) (s-1) and Tony Battisti
HR – Kevin Miller (1), Battisti (2) RBI – K. Miller 3, Battisti 3
<![if !supportLineBreakNewLine]>
<![endif]>