RELEASE DATE: 3/27/09
FOR IMMEDIATE RELEASE: Mounties swept by West Chester – Same two teams meet Saturday at Shaute Field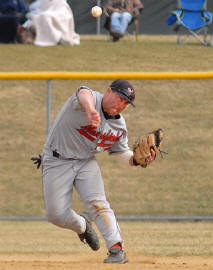 WEST CHESTER – West Chester stole home with the winning run in the fifth inning to pull out a 4-3 win in the opener and won the nightcap 9-1 to sweep Mansfield in a PSAC East baseball doubleheader Friday afternoon at West Chester.
West Chester scored once in the bottom of the first in the opener before Mansfield tied the game in the top of the second on a double by Chris Miller and RBI single from Mike Hartz.
West Chester retook the lead with two runs in the bottom of the inning for a 3-1 lead but Mansfield came back with two runs in the fourth on a SAC fly by Miller and run scoring double from Nate Grove.
Joe Will relieved Mansfield starter Irv Sleighter in the fifth and was charged with the loss when West Chester pulled a double steal with two outs to score the winning run. Hartz went 2-3 with a RBI for Mansfield. Sleighter scattered seven hits over four innings and was charged with three earned runs.
In the nightcap, Mansfield scored the game's first run on a RBI double by Tony Battisti but Mansfield would manage just two more hits the rest of the game. Eric Rosenberger suffered his second loss in five decisions.
Conner Kerins went the distance to get the win for West Chester with Nick Spisak hitting a three-run home run.
The two teams will meet again tomorrow at Shaute Field in a doubleheader starting at 1 p.m.
GAME ONE
Mansfield 010 200 0 3-8-1
West Chester 120 010 x 4-8-0
Mansfield (10-19, 0-5 PSAC East): Irv Sleighter, Joe Will (5) (L, 0-2) and Tony Battisti
2b – Chris Miller, Nate Grove RBI – C. Miller, Grove, Mike Hartz
West Chester (19-8, 8-1): Jason Bowman (W,2-3), Eric Carmichael (7) and Bob Stumpo
2b – Kevin McGrath, Kyle Orensky, Joe Wendle RBI – Orensky, Josh Heyne
GAME TWO
Mansfield 001 000 0 1-4-1
West Chester 005 022 X 9-10-1
Mansfield (10-20, 0-6 PSAC East): Eric Rosenberger (L, 3-2), Jordan Garcia (5) and Tony Battisti
2b – Tony Battisti RBI – Battisti
West Chester (20-8, 8-1): Connor Kerins (W, 4-1), Billy Huntzinger (7) and Bob Stumpo
2b – Keving McGrath, Blair Dameron, Charlie Kelly HR – Nick Spisak(2) RBI – Spisak(3), Kelly(2), Matt Cotellese, Dameron, Kyle Orensky, Joe Wendle