RELEASE DATE: 4/08/09
FOR IMMEDIATE RELEASE: Mounties split doubleheader at Bloomsburg – win over 8-4 and drop 9-8 heart-breaker in extra innings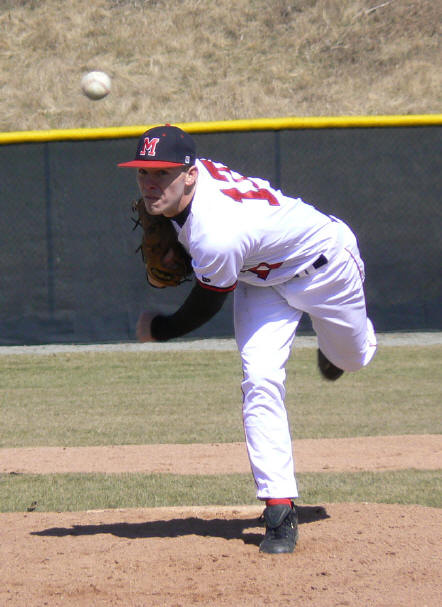 BLOOMSBURG – Eric Rosenberger stuck out seven and Tony Battisti hit his third home run of the season to lead Mansfield to an 8-4 win in the opener, but Bloomsburg rallied from a five-run deficit to take the nightcap 9-8 in extra-innings and salvage a split in a PSAC East doubleheader at Bloomsburg Wednesday afternoon.
The loss snapped a five-game winning streak for Mansfield giving the Mountaineers a 3-9 mark halfway through the PSAC East schedule.
In the opener, Mansfield trailed 2-0 going into the top of the third when the Mountaineers scored five times starting with a leadoff home run from Battisti. Chris Coleman and Chris Miller added RBI double's before Drew Bair and Battisti, batting for the second time in the inning, drew bases loaded walks.
Bloomsburg closed the gap to 5-4 with two runs in the bottom of the fifth on a RBI double by Kevin
Ward and run producing single by Jarrod Kramer.
Mansfield broke the game open with three runs in the top of the sixth when Cody Stinger drove in a run with a double and Coleman singled in two more.
Tyler Noel came in relief of Rosenberger in the sixth and struck out three of the 10 batters he faced over the final two innings. Stinger went 3-4 with two doubles and an RBI while Battisti and Chris Mller each had two hits. Rosenberger picked up his fourth win of the season.
In the nightcap, Mansfield jumped on Bloomsburg starter Joe Crossin for five runs before the end of the first inning on a bases loaded double by Chris Miller followed by an RBI single from Mike Hartz and run scoring double from Bair.
But Bloomsburg rallied with four runs in the bottom of the second off Mansfield starter Joe Will and added three more in the bottom of the fourth to take a 7-5 lead.
Mansfield rallied with three runs in the top of the sixth to take a 8-7 lead by Bloomsburg tied the score in the bottom of the inning on a two-out double from Mike Austin.
Mansfield had a runner on in the seventh but couldn't score before the Mountaineers Bernard Johnson who came in relief for starter Joe Will in the fifth inning, retired Bloomsburg in order in the bottom of the inning to send the game into extra-innings.
Mansfield went three up, three down, in the top of the eighth before Bloomsburg's Chris Haagen singled to lead off the bottom of the eighth. A sac bunt moved the runner over before Tony Donofry singled to win the game.
Chris Miller went 3-4 with a double and three RBI and Mike Hartz was 3-4 with a double and RBI to lead Mansfield.
The Mountaineers will travel to Shippensburg for a key PSAC East doubleheader on Friday.
GAME ONE
Mansfield 005 003 0 8-10-1
Bloomsburg 020 020 0 4-9-1
Mansfield (15-22, 3-8 PSAC East): Eric Rosenberger (W, 4-2), Tyler Noel (6) and Tony Battisti
2b – Cody Stinger 2, Chris Miller HR – Tony Battisti (3)
RBI – Chris Coleman 3, Battisti 2, Stinger, Miller, Drew Bair
Bloomsburg (12-21, 4-11 PSAC East): Mitch Troy (L, 4-3), Matt Kline (3) and Carlos Medina
2b – Kevin Ward, Nick Ferdinand RBI – Ward, Ferdinand, Billy Phillips, Jarrod Kramer
<![if !supportLineBreakNewLine]>
<![endif]>
GAME TWO
Mansfield 500 003 00 8-15-0
Bloomsburg 040 301 01 9-11-0
Mansfield (15-23, 3-9 PSAC East): Joe Will, Bernard Johnson (L, 1-2) and Battisti
2b – Kevin Miller, Chris Miller, Mike Hartz, Drew Bair
RBI – Chris Miller 3, Stinger, Chris Coleman, Mike Hartz, Bair
Bloomsburg (13-21, 4-12 PSAC East): Joe Crossin, Mike Rossetti (1) and Cory Eisenhart
2b – Mike Austin, Tony Donofry HR – Donofry
RBI – Donofry 6, Austin 2, Ward