RELEASE DATE: 3/8/08
FOR IMMEDIATE RELEASE: Mounties sweep Wilmington University 5-3, 6-4 to improve to 3-0 on season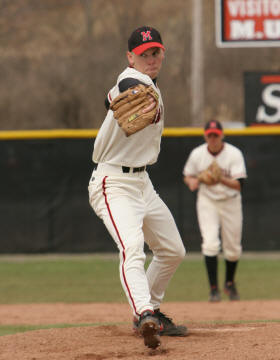 LANTANA, FL – Matt Young's two-run double in the top of the seventh of the nightcap gave Mansfield a 6-4 win over Wilmington University and a doubleheader sweep at the Santaluces Sports Complex in Lantana, FL Friday afternoon.
Mansfield won the opener 5-3 on a complete game three-hitter by Eric Rosenberger.
In the opener, Mansfield broke up a 1-1 tie with four runs in the bottom of the second keyed by a two-run single by Ryan Giblin. The four runs proved to be more than Rosenberger, who stuck out two, needed in going the distance to pick up his first win of the season.
Giblin went 2-3 in the opener with Abram Yeakel going 2-4.
In the nightcap, Young's double broke up a 4-4 tie with Tyler Noel picking up the win after relieving Justin Garcia in the fourth inning.
Williamsport's Nate Grove went 2-3 with a double and RBI while Yeakel was 2-4. Horseheads Tony Battisti also doubled.
Mansfield improves to 3-0 on the season and has a travel day on Saturday before taking on Northwood University (MI) and Slippery Rock on Sunday at Ft. Pierce.
GAME ONE
Wilmington 012 000 0 3-3-2
Mansfield 140 000 x 5-6-1
Wilmington: Cimabue (L) and Gianni
3b – Testa RBI – Testa, Wilson
Mansfield (2-0): Eric Rosenberger (w, 1-0) and Tony Battisti
RBI – Ryan Giblin 2, Matt Young
GAME TWO
Mansfield 010 030 2 6-7-2
Wilmington 010 300 0 4-5-2

Mansfield (3-0): Justin Garcia, Tyler Noel (4) (W, 1-0) and Justin Baer
2b – Matt Young, Nate Grove, Battisti
RBI – Young 2, Grove, Drew Bair
Wilmington: Holiday (L) and Aviolia
2b – Brown RBI – Danks, Brosis