RELEASE DATE: 3/18/08
FOR IMMEDIATE RELEASE: Yeakel's grand slam leads Mansfield to 12-8 win over Wilmington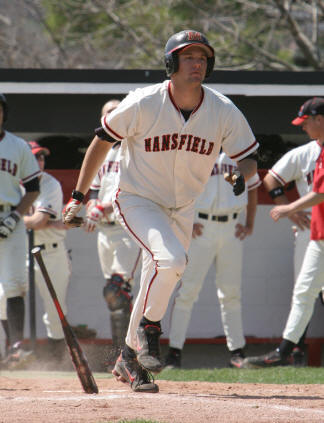 WILMINGTON,DE – Abram Yeakel blasted a grand slam and drove in five runs to lead Mansfield to a 12-8 non-conference win at Wilmington University Tuesday.
Yeakel, who earlier in the day was named the PSAC East Player of the Week, delivered the grand slam in the sixth inning. He was 3-4 on the day with a home run, double and five RBI's. Williamsport's Nate Grove also had an impressive outing at the place going 4-5 with three doubles.
Mansfield (12-5) pounded out 17 hits in the nine-inning game.
Grove started on the mound for Mansfield and was relieved by Chad Smith in the fourth inning. Smith gave way to Trevor Tellip who picked up his first win of the season.
Mansfield will travel to Shippensburg on Friday before hosting Shippensburg on Saturday in the Mountaineers home opener.
Mansfield 122 014 101 12-17-2
Wilmington 001 402 001 8-10-5
Mansfield (12-5): Nate Grove, Chad Smith (4), Trevor Tellip (5) (w, 1-0), Tyler Noel and Tony Battisti
2b – Grove 3, Abram Yeakel HR – Yeakel (2)
RBI – Yeakel 5, Drew Bair 2, Ryan Giblin, Chris Miller
Wilmington (3-9): Bill Cecconi, Sean Gorham (3), Steve Messick (5), Anthony Cimabue (6) , Phil Aviola (8) and Matt Gianni
2b - Cody Holliday HR -- Spike Austin 2, Joe Brown
RBI – Austin 4, Brown 2