RELEASE DATE: 4/11/08
FOR IMMEDIATE RELEASE: Mounties split at West Chester – Sleighter throws seven-hit shutout in opener
Game One Box Score
Game Two Box Score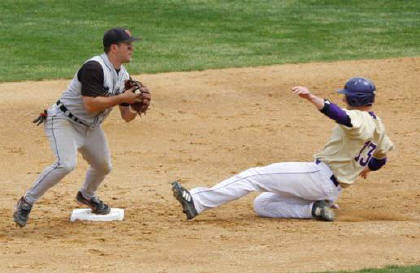 WEST CHESTER – Irv Sleighter crafted a seven-hit shutout and Chris Miller went 2-3 with an RBI to lead Mansfield to a 2-0 win over West Chester in a key PSAC East doubleheader at Serpico Stadium Friday afternoon.
West Chester, ranked #11 in the nation in the latest ABCA/Collegiate Poll, won the nightcap 11-2.
Sleighter threw just 61 pitches in improving his record to 5-1 on the year and lowering his ERA to 1.70. The junior allowed no walks in struck out two in picking his second win in the last three days.
He pitched out of a jam in the bottom of the sixth after West Chester's Blair Dameron led off with a double and moved to third when the next batter singled. Sleighter got the next three batters on short fly outs to the outfield to end the threat and preserve the shutout.
Mansfield scored a run in the first when Matt Young led of the game with a single to right and moved to third on a single by Justin Garcia. Young scored on an error by the outfielder.
The Mountaineers added another the game's other run in the third when Young was hit by a pitch to lead off the inning and later scored on a RBI single from Miller.
It was just the fifth loss and second time West Chester had been shutout this season. The win put Mansfield and West Chester into a short-lived tie for first place in the PSAC East with 6-3 records.
In the nightcap, West Chester exploded for seven runs in the third inning breaking open a 3-1 game.
Young went 2-for-3 for Mansfield while Garcia hit his sixth home run of the season with a lead off homer in the second inning.
Nick Spisak went 3-for-4 with four RBI for to lead West Chester.
West Chester is now one game ahead of Mansfield atop of the PSAC East with both teams scheduled to meet for a doubleheader at Joe Shaute Field on Saturday starting at 1 p.m.
GAME ONE
Mansfield 101 000 0 2-5-0
West Chester 000 000 0 0-7-1
Mansfield (25-11, 6-3 PSAC East): Irv Sleighter (W, 5-1) and Tony Battisti
RBI – Chris Miller
West Chester (31-5, 6-3 PSAC East): Chris Powl (L, 6-1) and Bob Stumpo
2b – Blair Dameron
GAME TWO
Mansfield 010 000 1 2-5-2
West Chester 127 100 x 11-15-0
Mansfield (25-12, 6-4 PSAC East): Eric Rosenberger (L, 4-3), Zach Ullrich (3), Joe Will (5) and Justin Baer
2b – Chris Miller HR – Justin Garcia (6) RBI – Garcia
West Chester (32-5, 7-3 PSAC East): Jason Bowman (W, 7-0) and Brandon Wolfe
2b – Nick Spisak, Drew Pare RBI – Spisak 4, Kevin McGrath 3, Kyle Bechter 2, Dameron, Frank Nunan
<![if !supportLineBreakNewLine]>
<![endif]>