RELEASE DATE: 3/11/08
FOR IMMEDIATE RELEASE: Mansfield splits doubleheader with UPJ in Florida – Sleighter throws shutout in opener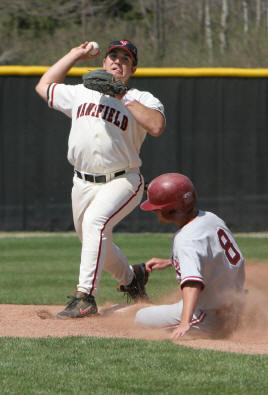 FT. PIERCE, FL – Junior Irvin Sleighter (Chambersburg/Chambersburg) scattered seven hits in a compete game shutout to post a 8-0 win over Pitt-Johnstown in the opening game of a doubleheader at Ft. Pierce, FL on Tuesday.
Pitt-Johnstown broke up a tie game with seven runs in the fifth inning to win the nightcap 12-8.
Sleighter cruised to the win in the opener allowing seven hits over seven innings while striking out four and issuing two walks.
He would get all the runs he would need in the first inning on a sacrifice fly by Cody Stinger and RBI's singles by Chris Miller and Justin Garcia.
Miller went 4-4 with three RBI's and scored twice to lead the offense. Ryan Giblin and Matt Young each went 2-4. Abram Yeakel and Nate Grove both hit doubles.
In the nightcap, Mansfield rallied with two runs in the bottom of the fourth to tie the score at 4-4 on a RBI double by Yeakel and runs scoring single by Miler.
But UPJ got seven runs in the fifth to hand Mansfield its third loss in eight games this season.
Yeakel went 2-3 with a double and RBI and Garcia was 3-4 with an RBI. Young and Miller had two hits each.
Mansfield faces St. Thomas (FL) in a doubleheader on Wednesday.
GAME ONE
Mansfield 310 000 4 8-11-0
Pitt-Johnstown 000 000 0 0-7-1
Mansfield (5-2): Irvin Sleighter (W, 1-0) and Tony Battisti
2b – Abram Yeakel, Nate Grove
RBI – Chris Miller 3, Matt Young, Cody Stinger, Justin Garcia, Grove

Pitt-Johnstown (4-7): David Huey (L), Drew Shaulis (6) and Eddie Sotirokos
GAME TWO
Pitt-Johnstown 220 070 1 12-13-1
Mansfield 200 202 2 8-12-0
Pitt-Johnstown (5-7): Kaleb Fleck (W), Bill Wasko (6), James Mehall (7) and Justin Demek
2b – Josh Campanella
RBI – Ron Stenger 3, Matt Hanley 2, Andy Rubal 3, Demek 2, Campanella, Dan Delsignore
Mansfield (5-3): Eric Rosenberger (L, 1-1), Rick Stewart (5), Joe Will (7) and Justin Baer
2b – Yeakel
RBI – Matt Young 2, Yeakel, Cody Stinger, Chris Miller, Ryan Giblin, Justin Garcia