RELEASE DATE: 4/14/08
FOR IMMEDIATE RELEASE: Mansfield's Irv Sleighter named PSAC East Pitcher of the Week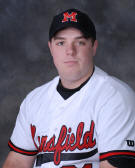 MANSFIELD – Mansfield University ace Irv Sleighter (Chambersburg/Chambersburg) has been named the Pennsylvania State Athletic Conference (PSAC) East Division Pitcher of the Week for his outstanding performance during the week April 7-13.
Sleighter threw a complete-game seven-hit shutout over West Chester, handing the Golden Rams just their fifth loss of the season and only the second time they had been shutout in 39 games this year. He threw just 61 pitches in the contest, walking none while fanning two batters. Two days earlier, Sleighter retired all four batters he faced in relief to pick up a win against Slippery Rock. The junior has not allowed an earned run in his last 22 innings to lower his ERA to 1.70 on the season.
Sleighter is 5-1 on the year with a remarkable strikeout-to-walk ration of 27-to-4.
Mansfield is currently 26-13 on the season and is tied for second-place in the PSAC East with Millersville with a 7-5 mark. West Chester tops the division with at 8-4.
Mansfield travels to Columbia Union on Tuesday and Millersville on Friday before returning home to Joe Shaute Field to host Millersville on Saturday.