RELEASE DATE: 3/22/08
FOR IMMEDIATE RELEASE: Baseball splits in home opener – Mounties win opener 6-3 and drop nightcap 11-5
Game One Boxscore
Game Two Boxscore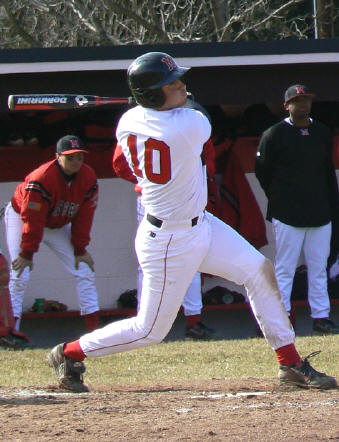 MANSFIELD – Justin Garcia picked up his first win of the season and Chris Miller singled in what proved to be the winning run in the third inning to lead Mansfield to a 6-3 come-from-behind win over Shippensburg in the opening game of a doubleheader at Shaute Field Saturday afternoon.
Garcia settled down after giving up three runs over the first two innings and the Mountaineers scored three runs in the second and third innings to rally for their 14th win of the season. Garcia scattered eight hits over five innings and allowed just one earned run while striking out two.
Tyler Noel picked up his first save of the year allowing one hit and no runs over the final two innings.
Chris Miller went 3-4 with a double and RBI while Nate Grove and Ryan Riley each had two hits and drove in a run.
Mansfield trailed 3-0 going into the bottom of the second inning when Miller led off with a double and scored on a single by Riley. Grove doubled to put runners on second and third before Tony Battisti singled in Riley. Matt Young hit a sacrifice fly to scored Grove and tie the score.
The Mountaineers got three more in the third inning, the first coming off an RBI single by Grove. Drew Bair added an RBI single and the final run scored on a wild pitch.
In the nightcap, Shippensburg took a 2-0 lead into the fourth inning when Chris Miller tied the game with a two-run home run over the centerfield fence.
Mansfield starter Shane Ryan allowed just two runs on six hits with a strikeout through the first four innings before giving way to the bullpen.
Shippensburg exploded for five runs with two outs in the fifth, including four on a grand slam by Kris Kullman, and added four more runs in the sixth to put the game out of reach.
Abe Yeakel went 2-3 for Mansfield.
It was the first home games of the season for the Mountaineers who are now 14-7 on the year. Mansfield will host East Stroudsburg next Friday.
GAME ONE
Shippensburg 210 000 0 3-9-0
Mansfield 033 000 x 6-11-2

Shippensburg (12-11): Andrew Burke (L, 2-3), Jason Kelly (6) and Sean Killian
2B - Kevin Scholly, Tyler Redick RBI – Kyle Rhoades, Justin Garber
Mansfield (14-6): Justin Garcia (W, 1-1), Tyler Noel (6) (s-1) and Tony Battisti
2b – Abe Yeakel, Chris Miller, Nate Grove
RBI – Matt Young, Ryan Riley, Nate Grove, Drew Bair, Tony Battisti
GAME TWO
Shippensburg 010 150 4 11-15-1
Mansfield 000 210 2 5-8-0

Shippensburg (13-11): Thomas Ashman (W, 2-1), Kyle Warner (7) and Kris Kullman
2b – Kullman HR - Kullman, Kasey Kuhns, Tim Freshour
RBI – Kullman 4, Freshour 2, Tyler Redick 2, Kyle Rhoads, Kuhns, Kevin Miller
Mansfield (14-7): Shane Ryan, Trevor Tellip (5)(L, 1-1), Nate Grove (6), Zachary Ullrich (7), Rick Stewart (7) and Justin Baer, Tony Battisti (5)
2b – Jared Johnson, Ryan Riley HR – Chris Miller (1)
RBI - Matt Young 2, Miller 2, Johnson