RELEASE DATE: 3/21/08
FOR IMMEDIATE RELEASE: Rosenberger throws four-hit shutout in nightcap in split at Shippensburg – Mounties host Ship in home opener Saturday

Game One Boxscore
Game Two Boxscore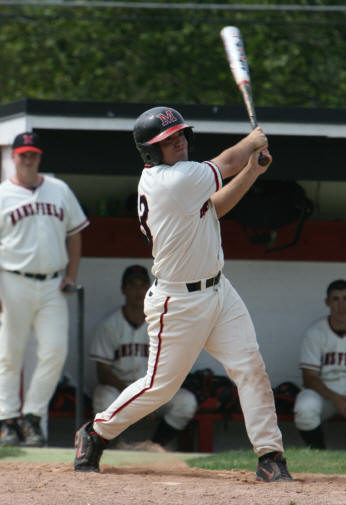 SHIPPENSBURG – Sophomore Eric Rosenberger (Dillsburg/Northern) threw a four-hit shut out and Drew Bair (Phoenix,AZ/Mountain Ridge) delivered the game's only run as Mansfield beat Shippensburg 1-0 in the nightcap of a non-divisional game at Art Fairchild Field Friday afternoon.
Shippensburg won the opener 6-4 behind a 12 strikeout performance by Matt Wright.
In the nightcap, Mansfield would score the only run of the game in the top of the second inning. Chris Miller (Kenvil,NJ/Roxbury) led off with a single through the left side and advanced to second on a passed ball. Miller moved to third when Ryan Riley (Windsor/Windsor) lined out to centerfield and scored one batter later when Bair singled to center.
The game featured a pitching dual between Rosenberger, who struck out two and walked one, and Shippensburg's Tim Freshour who also allowed just four hits while striking out three and walking one.
Rosenberger retired the first 10 batters he faced in order before Kyle Rhoades reached on a fielding error and Kevin Scholly walked to give Shippensburg runners on first and second with two outs in the fourth inning. Rosenberger stuck out the next batter looking to end the threat.
Mansfield had a scoring threat in the sixth when Abram Yeakel (Kutztown/Kutztown) and Justin Garcia (Blandon/Fleetwood) hit back-to-back singles but the Mountaineers couldn't put a run across.
Shippensburg threaten in the six when Eric Dezell led off with a single and moved to second before Rosenberger got two batters to ground out.
Shippensburg also threatened in the bottom of the seventh when the first two batters singled to open the inning. But Rosenberger picked off the lead runner at second and after another single got the final two batters to fly out to end the game.
In the opener, Shippensburg got a strong performance from Wright who allowed just four hits in addition to striking out 12. Shippensburg scored three runs with two outs in the fourth inning ncluding two on a home run by Eric Dezell.
The Mountaineers got a run in the fifth on a RBI single by Matt Young (Huntingdon/Huntingdon) and Mansfield scored in the sixth when Yeakel led off with a double and later scored on a rundown after Miller singled.
Irv Sleighter (Chambersburg/Chambersburg) suffered his first loss of the season going the distance and striking out three.
Both teams will meet in a doubleheader again on Saturday in the Mountaineers home opener of the season staring at 1 p.m. at Shaute Field.
GAME ONE
Mansfield 000 011 0 2-4-1
Shippensburg 001 302 x 6-9-0

Mansfield (12-6): Irv Sleighter (L, 1-1) and Tony Battisti
2b – Abe Yeakel RBI – Matt Young
Shippensburg (12-9): Matt Wright (W, 3-1) and Sean Killian
2b – Kevin Miller, Sean Killian HR – Eric Dezell
RBI – Dezell 2, Tyler Redick, Kevin Miller, Kasey Kuhns Sean Killian
GAME TWO
Mansfield 010 000 0 1-4-1
Shippensburg 000 000 0 0-4-0

Mansfield (13-6): Erick Rosenberger (W, 3-1) and Justin Baer
RBI – Drew Bair
Shippensburg (12-10): Tim Freshour (L, 5-2) and Sean Killian