RELEASE DATE: 12/24/07
For immediate release: Mansfield University baseball signs former Horseheads High School standout Chris Zelko, Division I transfer Jared Petrovich for upcoming 2008 season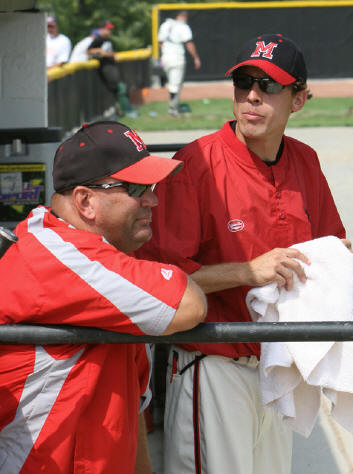 MANSFIELD – Mansfield University head baseball coach Harry Hillson is excited to announce the signing of three student-athletes, including two Division I transfers – former Horseheads standout Chris Zelko and Jared Petrovich from George Mason -- who will be eligible to play this upcoming season.
"We're pretty excited to have these guys join our program," said Hillson. "All three can be impact type players and Zelko and Petrovich will give us an immediate boost. A lot of the credit for getting these guys goes to our new assistant coach Chris Francis."
Zelko, a right-handed pitcher comes to Mansfield after signing a National Letter-of-Intent to play at La Salle University out of high school.
"Anybody who's ever seen Chris knows he has unlimited potential and should add tremendous depth to our pitching staff," said Hillson.
The 6'4 Zelko was a standout in both baseball as well as basketball. On the hardwoods, Zelko was the all-time leading scorer in Horseheads School history, and was a two-time all-conference selection after his sophomore and junior seasons. On the mound he held a career record of 16-4 with a 2.90 ERA while earning all-conference honors as a sophomore, and 3rd Team all-state honors in his senior campaign.
Petrovich, a native of Shamokin, PA, was a 32nd round draft choice of the Florida Marlins as a high school senior in 2004. He was highly recruited out of Shamokin High School by Old Dominion, Coastal Carolina, East Carolina, Delaware, Louisiana Tech, Pittsburgh, Penn State, Rutgers, Richmond, West Virginia, Hofstra and William & Mary before deciding on George Mason.
A lefty, Petrovich was a member of the George Mason University staff in 2005 and 206 before sitting out last season. Petrovich was a reliever during his freshman season where his 15 appearances was third-most on the staff. He appeared in eight games in 2006 including five starts.
The addition of Zelko and Petrovich will be a big boost to the Mountaineer pitching staff which finished last in the PSAC in earned run average in 2007.
Also signing a National Letter-of-Intent was Mark Montgomery of Williamsburg, VA. A senior at Bruton High School this upcoming season, Montgomery is a gifted all-around athlete who plays shortstop and second base when not pitching. He will join the Mountaineers in the Fall of 2008.
As a junior last year, Montgomery hitting .367 with 22 RBI's and 16 stolen bases. On the mound he was 2-2 with a 2.47 ERA.
Mansfield opens the 2008 season at West Virginia Wesleyan on Feb. 22.