RELEASE DATE: 3/15/08
FOR IMMEDIATE RELEASE: Baseball sweeps Nyack to improve to 11-4 on the season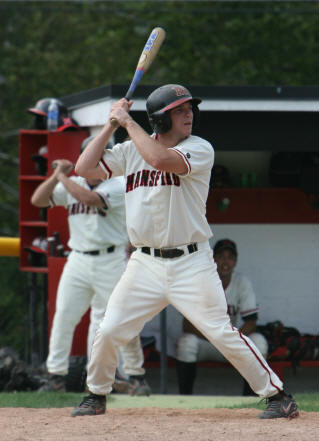 FT. PIERCE, FL – Eric Rosenberger struck out nine and allowed no earned runs in going the distance in the opener and Justin Garcia went 3-4 with a home run and four RBI's in the nightcap to lead Mansfield to a 16-4, 10-9 sweep over Nyack Saturday afternoon in Ft. Pierce, FL.
The sweep extends the Mountaineers winning streak to six games while improving the overall record to 11-4 with one contest remaining in Florida on Sunday.
In the opener, Rosenberger bounced back from a shaky start in his last outing to scatter six-hits with nine strikeouts over seven innings. None of Nyack's four runs were earned.
Mansfield scored six runs in the top of the first inning and added nine more runs over the next three innings to put the game out of reach early. Ryan Riley belted his third home run of the young season while junior Tony Battisti (Horseheads,NY/Horseheads) went 3-4 with two doubles and an RBI. Abram Yeakel also went 3-4 with an RBI and Chris Miller drove in three runs.
The nightcap turned into a slugfest early with each team scoring three runs in the first inning. Mansfield added five more runs and two more in the third and then hung on for the win.
Justin Garcia picked up the win in relief with Irving Sleighter earning a save after allowing no hits and striking out two in the final 1 1/3 innings.
Garcia also added a three-run home run in the second inning and went 3-4 with a home run and three RBI. Ryan Giblin was 2-3 with a double and RBI.
Statistics not available until Sunday