RELEASE DATE: 3/16/08
FOR IMMEDIATE RELEASE: Baseball wraps up Florida trip with 7-6 extra-innings loss to Northwood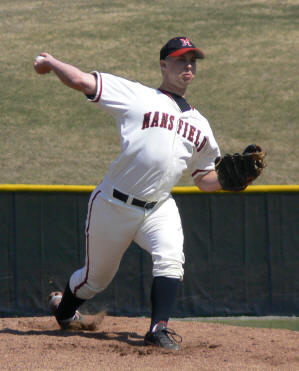 FT. PIERCE,FL – Mansfield rallied for three runs in the bottom of the ninth inning, including two on a two-out single by Ryan Riley, but Northwood (FL) scored in the top of the 10th to pull out a 7-6 win in the Mountaineers final game of a very successful Florida trip Sunday morning in Ft. Pierce.
Mansfield took a 2-0 lead in the bottom of the second but Northwood came back and held a 6-2 advantage going into the bottom of the eighth. The Mountaineers scored once in the eighth before tying the game in the bottom of the ninth, scoring three runs with two outs.
Chris Coleman drove in the first run with a single before Riley tied the game up.
Abram Yeakel went 3-4 with a double and Riley was 3-5 with two RBI's. Chris Zelko was charged with the loss after pitching the last two innings for the Mountaineers.
The loss snaps Mansfield's six-game winning streak but the Mountaineers return north with a very successful 11-5 mark in the annual Florida trip.
Mansfield will travel to Wilmington (DE) University on Tuesday and Shippensburg on Friday before hosting Shippensburg in their home opener on Saturday.
Northwood 012 001 200 1 7-16-1
Mansfield 020 000 013 0 6-13-2

Northwood: Brian Henshaw, Frankie Mambuca (7), Tim Babrick (9) (W) and Mike Schaetzie
2b – Corey Cooke 2, Max Rios, Nathan Forsyth, Steve Brodt
3b – Schaetzie
RBI – Brodt 2, Cooke 2, Forsyth, Adam Bronstein

Mansfield (11-5): Zach Ullrich, Shane Ryan (4), Trevor Tellip (6), Chris Zelko (9) (L) and Tony Battisti
2b – Matt Young, Abram Yeakel, Justin Garcia
RBI – Ryan Riley 2, Jared Johnson, Chris Coleman, Battisti, Young