RELEASE DATE: 4/18/08
FOR IMMEDIATE RELEASE: Mountie baseball drops doubleheader at Millersville
Game One Box Score
Game Two Box Score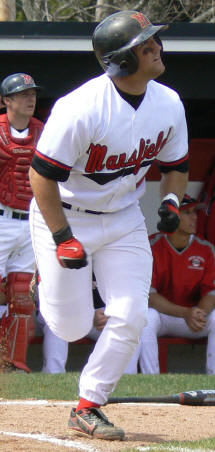 MILLERSVILLE – Mansfield out hit Millersville in each game but the breaks didn't go the Mountaineers way as they dropped a PSAC East doubleheader 3-1, 6-4 at Millersville Friday afternoon.
In the opener, Mansfield Irv Sleighter and Millersville Ryan Stauffer locked into a pitching dual with Sleighter allowing just four hits and striking out five.
However two of those hits were home runs by Lance Miller and Keith Spencer in the third inning to account for all of Millersville's runs.
Mansfield, which stranded six runners to none by Millersville, took a 1-0 lead in the top of the second when Justin Garcia led off with a double and scored on a single by Chris Miller.
Mansfield threatened in the fifth with Tony Battisti led off the inning with a double but could move past second.
Mansfield, which held a 6-4 advantage in hits, was led offensively by Miller who went 2-for-3 with a RBI.
In the nightcap, Mansfield jumped out to a 4-1 lead after 5 ˝ innings before Millersville erupted for five runs in the bottom of the sixth with three runs coming double by Miles Gallagher.
Matt Young hit his second home run of the season in the fifth with one on and Mansfield had runners on first and second in the seventh with one out but couldn't score the tying runs.
Mansfield held a 10-4 advantage in hits with Abe Yeakel going 3-for-3 and Nate Grove 2-for-3.
The wins give Millersville sole possession of second place in the PSAC East with a 9-5 record while Mansfield falls to third with a 7-7 mark.
The two teams meet again on Saturday at Shaute Field for Senior Day with seniors Ryan Giblin and Abe Yeakel being honored in pregame ceremonies.
GAME ONE
Mansfield 010 000 0 1-6-1
Millersville 003 000 x 3-4-2
Mansfield (26-16, 7-6): Irv Sleighter (L,5-2) and Tony Battisti
2B - Tony Battisti, Justin Garcia RBI – Chris Miller
Millersville (17-21, 8-5): Ryan Stauffer (W, 5-3) and Miles Gallagher
HR – Lance Miller, Keith Spencer RBI – Spencer 2, Miller
GAME TWO
Mansfield 000 121 0 4-10-0
Millersville 000 105 x 6-4-0
Mansfield (26-17, 7-7): Justin Garcia (L, 3-4), Tyler Noel (6) and Justin Baer
2B – Chris Miller, Nate Grove 2 HR – Matt Young (2)
RBI – Young 2, Chris Coleman, Grove
Millersville (18-21, 9-5): Zach Eckley, Jesse Shabin (5), Mike McMonagle (6), Andrew Clemens (7) (s-4) and Gallagher
2b – Gallagher RBI – Gallagher 3, Derek Kline, Cody Wile