RELEASE DATE: 3/10/08
FOR IMMEDIATE RELEASE: Ryan Riley 10th inning single lifts Mansfield to 12-10 win over Manhattanville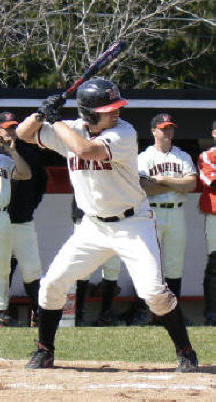 FT. PIERCE, FL – Ryan Riley delivered a bases-loaded single in the top of the 10th inning to knock in the winning run to lead Mansfield to a 12-10 win over Manhattanville College Monday in Ft. Pierce, FL.
Manhattanville took an early lead after scoring five runs in the second inning of starter Chris Zelko and led 7-2 after four innings before Mansfield mounted a comeback.
The Mountaineers scored a run in the fifth and six innings before exploding for six runs in the eighth, keyed by home runs from Abram Yeakel and Cody Stinger, to take a 10-9 lead.
Manhattanville (2-4) scored a run in the bottom of the inning to tie the score and a scoreless ninth inning sent the game into extra innings.
In the top of the tenth, Yeakel led off with a single and moved to third on a double by Justin Garcia. Stinger than walked to load the bases for Riley who singled through the middle to drive in Yeakel. Justin Baer the lofted a sacrifice fly to score Garcia.
Manhattanville treated in the bottom of the 10th. With runners on first and third with one out, Ryan Giblin fielded a hard grounder at short, stepped on second and fired to first for a game-ending double play.
Stinger went 3-4 with two home runs and three RBI's to lead the Mansfield offense while Yeakel was 4-5 with a home run and three RBI's.
Chad Smith picked up the win with a scoreless 10th inning.
Mansfield improves to 4-2 and will play Pitt-Johnstown in a doubleheader on Tuesday.
Mansfield 12 Manhattanville 10
Mansfield 101 011 060 2 12-13-5
Manhattanville 052 001 110 0 10-11-3
Mansfield (4-2): Chris Zelko, Mike Martin (3), Trevor Tellip (8), Joe Will (9), Chad Smith (10 (W, 1-0) and Abram Yeakel
2b – Justin Garcia HR – Yeakel (1), Cody Stinger 2 (2)
RBI – Stinger 3, Ryan Giblin 2, Yeakel 2, Chris Miller, Ryan Riley, Justin Baer, Garcia
Manhattanvile (2-4): Brenden Murname, Joe Donnelly (5), Sean Kahn (7), Joe Kain (8), Frank Albano (9) (L-0-1) and Jeff Dunn
2b – Thomas Verrengia, Stephen Pinto, Jason Monforte, Chris DelGrosso
RBI – DelGrosso 2, Verrengia, Pinto, Paul Beljec