RELEASE DATE: 4/01/08
FOR IMMEDIATE RELEASE: Baseball improves to 19-9 with sweep over Lock Haven – Battisti hits grand slam in nightcap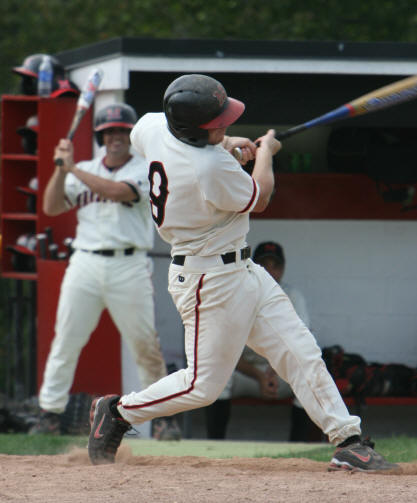 LOCK HAVEN – Mansfield pounded out 33 hits and junior Tony Battisti (Horseheads,NY/Horseheads) hit his first collegiate home run with a grand slam in the second game to pace Mansfield to a 7-1, 10-4 sweep over Lock Haven in a non-division doubleheader against PSAC West rival Lock Haven Tuesday afternoon.
Mansfield rapped out 17 hits in the opener and 16 in the nightcap to improve to 19-9 on the season and extend their winning streak to four games.
Mansfield got a strong performance out of Shane Ryan (Levittown/Neshaminy) on the mound in the opener. Ryan scattered four hits and allowed just one earned run in six innings before giving way to Trevor Tellip (Jermyn/Lakeland) in the seventh.
The Mountaineers scored the games first run in the third on a sacrifice fly by Chris Miller (Windsor/Windsor) before adding two more in the fifth. Justin Baer (Williamsport/Williamsport) doubled to lead off the sixth and later scored on a RBI single by Abe Yeakel (Kutztown/Kutztown).
Mansfield added three runs in the seventh to put the game out of reach. Yeakel went 4-4 with two RBI's while Drew Bair (Phoenix,AZ/Mountain Ridge) was 3-4 with an RBI. Ryan Giblin (Feasterville/Neshaminy), Justin Garcia (Blandon/Fleetwood), Ryan Riley (Kenvil,NJ/Roxbury), and Nate Grove (Williamsport/Williamsport) each had two hits apiece.
In the nightcap, Mansfield scored once in the top of the first on an RBI single by Garcia but Lock Haven took the lead with three runs in the bottom of the inning.
Nate Grove struggled with his control on the mound early and was relieved by Chad Smith (York/York Catholic) who picked up his second win of the season giving up seven hits over the final 6.1 innings allowing just one earned run.
Mansfield erupted for seven runs with two outs in the top of the third highlighted by a grand slam home run by Battisti. Jared Johnson (Wyalusing/Wyalusing) also had an RBI double.
Battisti went 2-4 with four RBI's while Matt Young, Giblin, Yeakel, Garcia and Johnson also had two hits apiece.
Mansfield (19-9, 3-1 PSAC East) resumes its PSAC East schedule when it travels to Kutztown on Friday.
GAME ONE
Mansfield 001 021 3 7-17-2
Lock Haven 000 001 0 1-4-4

Mansfield (18-8): Shane Ryan (W, 2-0), Trevor Tellip (7) and Justin Baer
2b – Justin Baer RBI – Abe Yeakel 2, Ryan Giblin, Chris Miller, Ryan Riley, Nate Grove, Drew Bair
Lock Haven (10-17): Andrew Simonik (L, 3-3), David Masteller (7), dan Knapp (7) and Mich Harner, Mike Drawbaugh (4)
RBI – Matt Palko
GAME TWO
Mansfield 107 010 1 10-16-0
Lock Haven 300 001 0 4-7-3
Mansfield (19-9): Nate Grove, Chad Smith (1) (W, 2-0) and Tony Battisti
2b – Jared Johnson HR – Battisti (1)
RBI – Battisti 4,Garcia, Yeakel, Johnson
Lock Haven (10-18): Jordan Yohn (L, 2-2), Dan Knapp (3), Brian Kochik (3), Eric Christensen (7) and Teddy Stake
RBI – James Zimmerman