RELEASE DATE: 4/06/08
FOR IMMEDIATE RELEASE: Mountie bats go cold in 3-1, 5-2 losses at Kutztown
Game one Box Score
Game two Box Score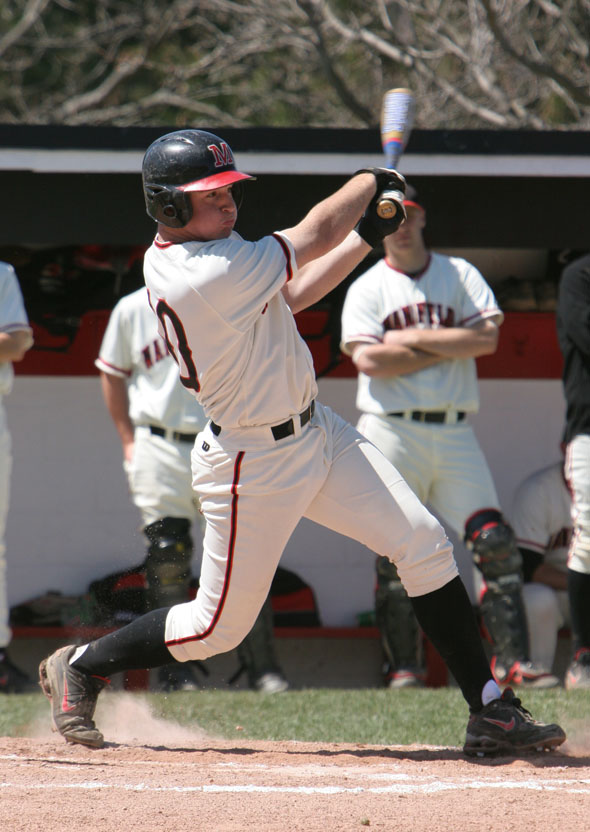 KUTZTOWN – Mansfield managed just seven hits in dropping a 3-1, 5-1 PSAC East doubleheader at Kutztown on Sunday afternoon.
The losses snap a six game winning streak and mark the first time this season the Mountaineers have dropped a doubleheader.
The opener featured a pitching dual between Mansfield Justin Garcia and Kutztown's Darin Gorski. Garcia scattered four hits over six innings, striking out four and walking none. A three-run home run by Kutztown's Chad Lightcap in the bottom of the sixth accounted for all Kutztown's runs and all three runs were unearned after a Mansfield error extended the inning.
Gorski took a perfect game in the top of the seventh inning after retiring the first 19 Mountaineer batters he faced. Ryan Giblin singled with one out in the seventh and later scored on a RBI single by Chris Miller. Mansfield had the bases loaded with one out but couldn't score.
In the nightcap, Mansfield was held to four hits to Kutztown's 11.
Kutztown scored twice in the first off Tyler Noel who suffered his first defeat of the season in five decisions. Two of Kutztown's five runs were unearned.
Mansfield will host Clarion on Monday for a doubleheader starting at 1 p.m. at Shaute Field.
GAME ONE
Mansfield 000 000 1 1-3-1
Kutztown 000 003 x 3-4-0
Mansfield (21-9, 5-2 PSAC East): Justin Garcia (L, 3-2) and Tony Battisti
RBI – Chris Miller
Kutztown (13-14, 3-4 PSAC East): Darin Gorski (W, 5-2) and Matt Kulbacki
2b – Chad Lightcap HR – Chad Lightcap (5) RBI – Lightcap 3
GAME TWO
Mansfield 000 010 1 2-4-1
Kutztown 200 120 x 5-11-2
Mansfield (21-10, 5-3 PSAC East): Tyler Noel (L, 4-1), Trevor Tellip (5), Rick Stewart (6) and Justin Baer
2b – Matt Young RBI – Nate Grove
Kutztown (14-1, 4-4 PSAC East): Derick Reis (W, 1-1), Justin Jachowicz (6), Mike Bucklin (7) and Scott Kacelowicz RBI – Jared Frey, Chad Lightcap, Corey Buletza, Jeff Kistle