RELEASE DATE: 3/30/08
FOR IMMEDIATE RELEASE: Mounties sweeps East Stroudsburg to improve to 3-1 in PSAC East – Garcia throws compete game in opener and hits two home runs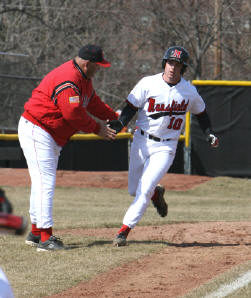 MANSFIELD – Justin Garcia (Blandon/Fleetwood) threw a complete game and hit two home runs in the opener and Tyler Noel (Irvona/Glendale) went the distance in the nightcap to lead Mansfield to a 14-3, 8-4 sweep over East Stroudsburg in a PSAC East doubleheader Sunday afternoon at Joe Shaute Field.
In the opener, Mansfield pounded out 18 hits while Garcia allowed just six East Stroudsburg hits and one earned run while striking out three. Garcia led off the bottom of the second with a solo home run over the left field fence with Drew Bair (Phoenix,AZ/Mountain Ridge) adding two more runs on a single later in the inning.
Chris Miller (Kenvil,NJ/Roxbury) hit the first of his two home runs in the fourth inning with a shot over the centerfield fence. Garcia would hit a two-run home run in the fourth with Miller adding a solo shot in the sixth.
All nine Mountaineer starters hit safely in the opener with Garcia and Nate Grove getting three hits each. Abe Yeakel (Kutztown/Kutztown), Ryan Riley (Windsor/Windsor), and Bair had two hits each.
In the nightcap, Noel gave up six hits while striking out seven and allowing three earned runs.
Mansfield scored one run in the bottom of the first before East Stroudsburg scored twice in the second and once again in the top of the third to take a 3-1 lead.
Mansfield tied the game in the bottom half of the third when Matt Young led off with a walk and moved to third on a double by Ryan Giblin (Feasterville/Neshaminy). Yeakel knocked in one run with a single before Miller singled in the tying run.
The Mountaineers broke the game open with four runs in the bottom of the fourth to put the game out of reach.
Yeakel went 3-4 with a home run, and double while driving in three runs. Miller and Matt Young (Huntingdon/Huntingdon) had two hits each with Miller adding two RBI's.
Bill Hezel was charged with the loss for East Stroudsburg with Kevin Thompson hitting a home run.
Mansfield improves to 17-8 on the season and 3-1 in the PSAC East. The Mountaineers travel to Lock Haven on Tuesday for a non-conference doubleheader.
GAME ONE
East Stroudsburg 000 200 1 3-6-1
Mansfield 042 314 x 14-18-2
East Stroudsburg (11-15, 1-2 PSAC East) - Gigliotti (L, 1-3), Saveri (3), Manning (6) and O'Connor
2b – O'Connor HR – Thompson (1)
RBI – Thompson
Mansfield (16-8, 2-1 PSAC East): Justin Garcia (W, 3-1) and Justin Baer
HR – Justin Garcia 2, (4), Chris Miller 2 (4)
RBI – Garcia 3, Miller 3, Ryan Giblin 2, Drew Bair 3, Abe Yeakel 2, Matt Young

GAME TWO
East Stroudsburg 021 010 0 4-6-1
Mansfield 102 401 x 8-9-2
East Stroudsburg 11-16, 1-3 PSAC East): Hezel (L, 2-4), Walker (4), Clemens (6) and Muth
2b – Padua HR – Thompson (2) RBI – O'Malley, Bortz,, Thompson, Padua
Mansfield (17-8, 3-1 PSAC East): Tyler Noel (W,4-0) and Tony Battisti
2b – Ryan Giblin, Abe Yeakel HR – Yeakel (3)
RBI – Yeakel 3, Justin Garcia 2, Chris Miller 2, Giblin