RELEASE DATE: 3/29/08
FOR IMMEDIATE RELEASE: Mansfield splits PSAC East opener at East Stroudsburg – Mounties win opener 7-2 and drop 1-0 pitching dual in nightcap
Game One Box Score
Game Two Box Score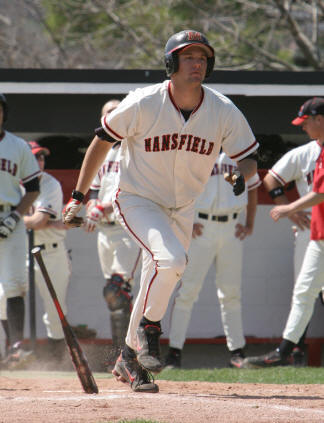 EAST STROUDSBURG – Irv Sleighter (Chambersburg/Chambersburg) scattered six-hits in the opener and Nate Grove (Williamsport/Williamsport) went 2-3 with a double and two RBI's to lead Mansfield to a 7-2 win at East Stroudsburg in the first game of a PSAC East opening doubleheader at Mitterling Field Saturday afternoon.
East Stroudsburg's Steve Prazenka out dueled Eric Rosenberger (Dillsburg/Northern) 1-0 in the nightcap to salvage a split.
In the opener, Mansfield scored six runs over the first three innings to give Sleighter plenty of cushion in improving to 2-1 on the season. He struck out four and walked none in allowing one earned run. It marked the third time in four starts this season Sleighter went the distance. He ahs struck out 18 on the season while walking just three.
Mansfield scored three runs with two outs in the top of the second when Grove singled and Tony Battisti (Horseheads,NY/Horseheads) walked. Grove scored on a double by Matt Young (Huntingdon/Huntingdon) and Battisti and Young both scored on a single by Ryan Giblin (Feasterville/Neshaminy).
Mansfield added two more runs in the third on a two run double by Grove.
Justin Garcia (Blandon/Fleetwood) and Grove each had two hits for Mansfield.
In the nightcap, Mansfield threatened in the first twice getting runners to second but couldn't push a run across.
East Stroudsburg broke up the scoreless dual in the bottom of the fifth on a sacrifice fly by Brendan O'Malley. Mansfield got the lead runner on in the sixth on a single by Giblin but he failed to advance.
Rosenberger was impressive in the loss scattering four hits with one walk and one strikeout. It marked the second straight 1-0 complete game decision for Rosenberger in his last two starts. He beat Shippensburg 1-0 a week ago.
Mansfield got a season low three hits off Prazenka who struck out three and walked two. Giblin had two of the Mountaineers three hits.
Mansfield's Abe Yeakel (Kutztown/Kutztown), who entered the game as one of the top hitters in NCAA Division II, was held hitless in six at-bats in the doubleheader to snap a 12-game hitting streak.
The teams will meet again Sunday at Joe Shaute Field in a doubleheader starting at 1 p.m.
GAME ONE
Mansfield 132 001 0 7-7-2
East Stroudsburg 100 100 0 2-6-2

Mansfield (15-7, 1-0 PSAC East): Irv Sleighter (W, 2-1) and Tony Battisti
2b – Nate Grove, Matt Young, Justin Garcia
RBI – Grove 2, Ryan Giblin 2, Young, Garcia, Ryan Riley
East Stroudsburg (10-14, 0-1 PSAC East): Dave Boyer (L), Tom Admire (6), Mike Walker (6) and Mike Bortz
RBI – John Pisker
GAME TWO
Mansfield 000 000 0 0-3-0
East Stroudsburg 000 010 x 1-4-0
Mansfield (15-8, 1-1 PSAC East): Eric Rosenberger (L, 3-2) and Justin Baer
East Stroudsburg (11-14, 1-1 PSAC East): Steve Prazenka (W) and Brendan O'Conner
RBI – Brendan O'Malley