RELEASE DATE: 4/07/08
FOR IMMEDIATE RELEASE: Mansfield sweeps Clarion 6-5, 14-6 to improve to 23-10
Game One Box Score
Game Two Box Score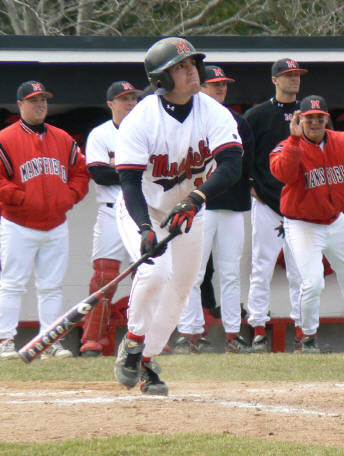 MANSFIELD – Drew Bair lifted a sacrifice fly in the bottom of the seventh to drive in the winning run in the opener and Ryan Giblin drove in four runs in the nightcap to lead Mansfield to a 6-5, 14-6 sweep over Clarion in a PSAC crossover doubleheader at Shaute Field Monday afternoon.
Mansfield improves to 23-10 over with the sweep while Clarion falls to 7-13
In the opener, Clarion jumped out to a 4-1 lead before Mansfield tied the score with three runs with two outs in the bottom of the third. Giblin and Abe Yeakel singled before Chris Miller lifted a shot over the left field fence for his fourth home run of the season.
The score remained tied until Clarion scored on a RBI single by Kirk Hays.
In the bottom of the inning, Yeakel led off with a bunt single and later scored on an RBI single by Ryan Riley. Nate Grove was intentionally walked to load the base before Bair lifted a high fly ball to right field to plate the winning run.
Miller went 2-4 with a home run and four RBI's for the Mountaineers while Yeakel, Jared Johnson and Chris Colman also had two hits apiece.
Mike Martin picked up his first college win working the seventh innings. Zach Ullrich had an impressive outing in relief of starter Chad Smith allowing four hits and no runs in four innings of work.
In the nightcap, Mansfield broke open a 3-3 tie with six runs in the bottom of the third highlighted by a three run triple by Giblin.
Mansfield added four runs in the fourth inning with two runs coming off a home run by Matt Young.
Young went 4-4 with two RBI's while Giblin was 2-4 with four RBI's. Yeakel went 25 with three RBI's while Miller, Drew Bair, Justin Baer and Justin Garcia each had two hits apiece.
Shane Ryan improved to 3-0 on the season going six innings and striking out three.
Mansfield travels to Slippery Rock for a doubleheader on Wednesday.
GAME ONE
Clarion 130 000 1 5-10-2
Mansfield 103 000 2 6-11-1

Clarion (7-12): Nate Semovoski (L, 1-2), Kirk Mays (7) and Matt White
HR – Andrew Petruska (1), Doug Brown (1) RBI – Petruska 2, Brown, Jason Krimsky, Kirk Hays
Mansfield (22-10): Chad Smith, Zach Ullrich (3), Mike Martin (7) (W, 1-0) and Toy Battisti
2b – Chris Miller, Chris Coleman HR – Chris Miller (4)
RBI – Miller 4, Ryan Riley, Drew Bair
GAME TWO
Clarion 120 003 0 6-8-4
Mansfield 126 401 x 14-16-3

Clarion (7-13): Nicholas LaManna (L, 0-1), Jonathan Giuliani (3), Paul Baker (4), Matt White (6) and Chad White
RBI – Doug Brown 2, Jordan Premick, Andrew Petruska
Mansfield (23-10): Shane Ryan (W, 3-0), Trevor Tellip (7) and Justin Baer
2b – Ryan Giblin, Abe Yeakel, Justin Garcia 3b – Ryan Giblin HR – Matt Young (1)
RBI – Giblin 4, Yeakel 3, Justin Baer 2, Young 2, Garcia,