RELEASE DATE: 3/14/08
FOR IMMEDIATE RELEASE: Mansfield baseball improves to 9-4 with 10-8 win over Chestnut Hill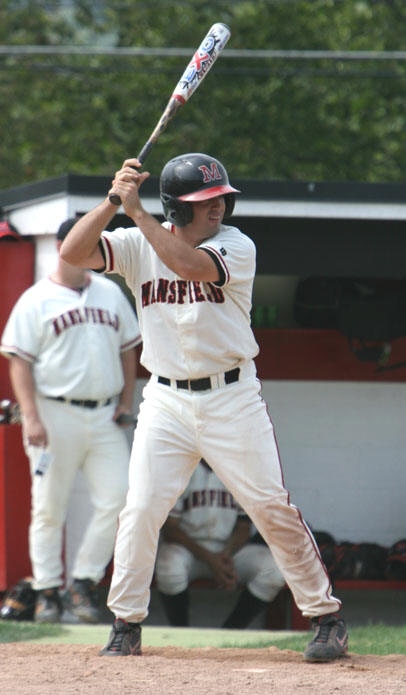 FT. PIERCE, FL – Drew Bair delivered a RBI single with two out in the bottom of the sixth inning to lift Mansfield to a 10-8 win over Chestnut Hill at Ft. Pierce, FL Friday.
It marked the fourth straight win for the Mountaineers -the second in two days over Chestnut Hill - who improve to 9-4 on the season.
Senior Abram Yeakel continued his hitting onslaught going 2-4 with two doubles and four RBI. Over the last three games Yeakel, a transfer from Division I Liberty University, has 10 hits in 14 at bats (.714) with nine RBI's.
Yeakel gave Mansfield the early lead, hitting two-run doubles in the first and second inning to give Mansfield an 8-1 lead after two innings.
Chestnut Hill rallied to tie the score at 8-8 before Bair drilled a two-out single to right field to score Ryan Riley and give Mansfield a 9-8 lead. The Mountaineers added to their lead on a solo home run by Riley in the eighth.
Tyler Noel picked up the win in relief with Rick Stewart picking up the save.
Yeakel went 2-4 with two doubles and four RBI with Riley going 2-3 with a home run and two RBI. Matt Young was 2-3 with a RBI.
Mansfield will play Nyack in a doubleheader on Saturday.
Chestnut Hill 012 122 000 8-8-2
Mansfield 350 001 01x 10-11-0
Chestnut Hill (1-8): Ryan Weber, Kevin Dumicich (L) (6), Tom Walton (8) and Bryan Henry
HR – Henry RBI – Andrew Koziol 3, Dan Etherton 2, Henry, George Kochu, Dumicich

Mansfield (9-4): Joe Will, Mike Martin (5), Tyler Noel (W) (6), Rick Stewart (7) and Tony Battisti, Justin Baer (5)
2b – Abram Yeakel 2, Ryan Giblin HR – Ryan Riley (2)
RBI – Yeakel 4, Riley 2, Giblin, Matt Young, Chris Miller, Drew Bair