RELEASE DATE: 3/24/08
FOR IMMEDIATE RELEASE: Mansfield baseball jumps into NCAA Division II top 30 National Poll – Mounties 29th after opening season 14-7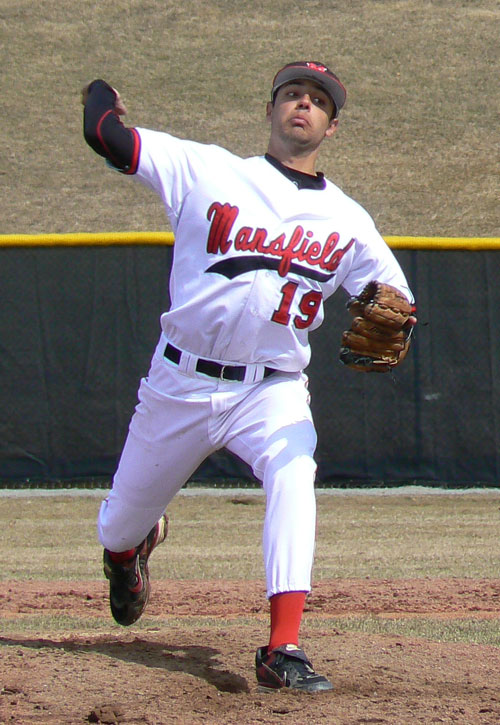 MANSFIELD – The Mansfield University baseball team jumped back into the national rankings this week appearing in the 29th spot in the NCAA Division II Collegiate Baseball Top 30 Poll this week at the 29th spot.
The Mountaineers had been a fixture in the national poll, including a #1 ranking in the preseason 1995 poll and #2 ranking in the 1992 final poll. Mansfield last appeared in the national poll in the 2005 preseason poll.
West Chester (#7) is the only other PSAC team ranked in the national poll.
Mansfield is 14-7 on the season, their best start since 2001.
The Mountaineers will open the PSAC East season on Friday when they host East Stroudsburg . First pitch of the doubleheader at Joe Shaute Field is set for 1 p.m.
Mount Olive Ranked No. 1 In NCAA Division II Poll
| | | | | |
| --- | --- | --- | --- | --- |
| Rank | Team | Record | Points | Last Week |
| 1. | Mount Olive | 33-2 | 480 | 1 |
| 2. | Sonoma State | 25-1 | 464 | 4 |
| 3. | West Alabama | 26-5 | 448 | 2 |
| 4. | Grand Valley State | 13-1 | 424 | 3 |
| | Southern Arkansas | 24-3 | 424 | 5 |
| 6. | Tampa | 22-4-1 | 398 | 6 |
| 7. | West Chester | 21-2 | 384 | 7 |
| 8. | Franklin Pierce | 13-2 | 362 | 8 |
| 9. | USC Aiken | 26-6 | 360 | 9 |
| 10. | Emporia State | 21-3 | 328 | 15 |
| 11. | Delta State | 21-8 | 320 | 10 |
| | Columbus State | 23-10 | 320 | 13 |
| 13. | Metro State | 23-5 | 284 | 21 |
| 14. | UC San Diego | 21-7 | 268 | 16 |
| 15. | Erskine | 27-3 | 248 | 14 |
| 16. | Cal State Chico | 21-7 | 242 | 19 |
| 17. | St. Joseph's (Ind.) | 16-3 | 224 | 26 |
| 18. | Wayne State (Neb.) | 12-3 | 202 | 17 |
| 19. | St. Edwards (Texas) | 21-7 | 200 | 18 |
| 20 | Angelo State | 26-8 | 190 | 25 |
| 21. | Central Missouri | 17-5 | 168 | 20 |
| 22. | Armstrong Atlantic State | 19-7 | 154 | RV |
| 23. | Ouachita Baptist | 25-7 | 124 | 12 |
| 24. | St. Mary's (Texas) | 21-7 | 120 | 24 |
| 25. | Florida Tech | 24-8-1 | 106 | RV |
| 26. | Cal State Stanislaus | 22-8 | 78 | 11 |
| 27. | Francis Marion | 22-12 | 68 | 22 |
| 28. | Catawba | 22-11 | 42 | NR |
| 29. | Mansfield | 14-7 | 26 | NR |
| 30. | Ashland | 11-5 | 16 | 28 |