RELEASE DATE: 3/12/08
FOR IMMEDIATE RELEASE: Mansfield splits twinbill with St. Thomas (FL) – Mounties lose the opener 7-0 and win nightcap 9-5 in eight innings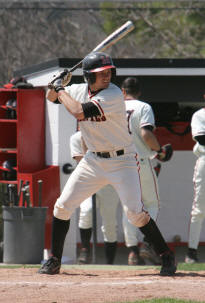 FT. PIERCE, FL – Justin Garcia doubled in Ryan Giblin with the winning run in the top of the eighth inning to lift Mansfield to a 9-5 win over St. Thomas (FL) in the nightcap of a doubleheader late Wednesday night in Ft. Pierce Fl.
St. Thomas took the opener 7-0.
In the nightcap, St. Thomas scored a run in the bottom of the sixth inning to tie the game at 4-4 and a scoreless seventh sent the game into extra innings.
Mansfield scored five runs in the top of the inning with three of them coming off errors or passed balls. Matt Young drove in the innings other run with an RBI base-loaded single.
Tyler Noel picked up the win in relief of starter Trevor Tellip. Freshman Jared Johnson went 2-3 with an RBI while Garcia and Nick Martyak each hit doubles.
Mansfield is 6-4 through the first 10 games of the 2008 season and play Chestnut Hill and Slippery Rock on Thursday.
GAME ONE
St. Thomas 300 000 4 7-6-0
Mansfield 000 000 0 0-3-2

St. Thomas (8-9): Rodriquez (w) and Martinez
RBI – Martinez 2, Panlagua 2, Rodriquez, Perez
Mansfield (5-4): Justin Garcia (L), Rick Stewart (6) and Tony Battisti
GAME TWO
Mansfield 003 010 05 9-7-2
St. Thomas 210 001 01 5-6-1
Mansfield (6-4): Trevor Tellip, Tyler Noel (6) (W), Mike Martin (8) and Justin Baer
2b – Nick Martyak, Garcia
RBI – Drew Bair, Garcia, Martyak, Jared Johnson, Matt Young
St. Thomas (8-10): Hernandez, Alverez (4), Cuadra (7) (L), Morejon (8) and Martinez
2b – Santana, Perez
RBI – Larimer 2, Santana, Martinez, Perez, Gonzales