RELEASE DATE: 4/15/08
FOR IMMEDIATE RELEASE: Columbia Union stuns Mounties in sweep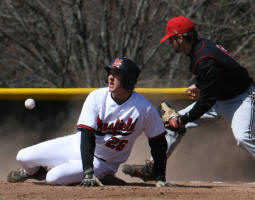 TACOMA PARK, MD – Despite rapping out 21 hits on the afternoon, the Mansfield University baseball program was swept 8-6, 3-2 in a doubleheader at Tacoma Park, MD Tuesday afternoon.
Chris Miller and Jared Johnson were both 2-for-4 with RBI's in the opener while Johnson was 2-for-3 and Ryan Giblin and Miller 2-for-4 in the nighcap.
Mansfield travels to Millersville Friday for a key PSAC East doubleheader.
GAME ONE
Mansfield 011 100 3 6-11-2
Columbia Union 201 410 x 8-7-1
Mansfield (26-14): Shane Ryan (L, 3-1), Chad Smith (5) and Tony Battisti
2b – Matt Young RBI – Abe Yeakel, Justin Garcia, Chris Miller, Drew Bair, Battisti
Columbia Union: Tom Rodgers (W), Payton Davis (7) and Robert Arvanites
2b – Matt Acevedo HR – Acevedo
RBI – Bill Arpei 2, Kyle Bahrie, Acevedo, Brandon Fleig
GAME TWO
Mansfield 010 010 0 2-10-0
Columbia Union 021 000 x 3-7-1
Mansfield (26-15): Zach Ullrich (L, 0-1), Eric Rosenberger (4) and Justin Baer
RBI – Bair, Nate Grove
Columbia Union: Alex Machain (W), Bijan Mohandessi (6), Jeff Stack (7) (s) and Arvanites
2b – Kyle Bahrie, Fleig 3b – Acevedo
RBI – Bahrie, Fleig, Arvanites