RELEASE DATE: 4/27/08
FOR IMMEDIATE RELEASE: Mounties playoff hopes dashed in doubleheader loss at Bloomsburg
Game One Box Score
Game Two Box Score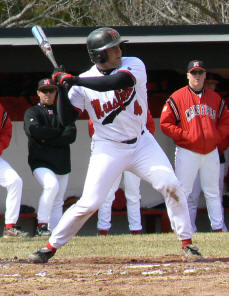 BLOOMSBURG – The Mansfield University baseball team saw its PSAC playoff hopes dashed in dropping both ends of a PSAC East doubleheader at Bloomsburg Sunday afternoon.
Mansfield lost the first game 1-0 and dropped the nightcap 3-1 to finish the season fourth place in the PSAC East with a 10-10 record. Millersville won the East with a 12-8 mark with Kutztown and West Chester tying for second at 11-9. The top three teams for each division advanced to the PSAC playoffs.
In the opener Mansfield's Justin Garcia and Grant Kernaghan squared off in a pitching dual with Bloomsburg scoring the game's only run on a two-out single by Carlos Medina in the fifth inning.
Mansfield had the bases loaded with one out in the first inning but couldn't plate a run. The Mountaineers stranded eight runners in the game to Bloomsburg's four and hit into two double-plays.
Garcia scattered five hits and struck out four while walking just one. It was the first win of the season for Kernaghan who allowed six hits and struck out three with no walks.
In the nightcap, Bloomsburg scored a run in the first before Mansfield tied the game on an RBI single by Matt Young in the third. Bloomsburg scored solo runs in the third and fifth to pull out the win.
Young had two hits for Mansfield and Tyler Noel went the distance giving up six hits and striking out six.
Mansfield ends the regular season with a 31-20 record.
GAME ONE
Mansfield 000 000 0 0-6-0
Bloomsburg 000 010 x 1-5-0
Mansfield (31-19, 10-9 PSAC East): Justin Garcia (L, 3-5) and Tony Battisti
Bloomsburg (14-32, 7-12 PSAC East): Grant Kernaghan (W, 1-4) and Rich Letts
RBI – Carlos Medina
GAME TWO
Mansfield 001 000 0 1-5-1
Bloomsburg 101 010 x 3-6-0
Mansfield (31-20, 10-10 PSAC East): Tyler Noel (L, 4-2) and Battisti
2b – Abe Yeakel RBI – Matt Young
Bloomsburg (15-32, 8-12 PSAC East): Paul Culbertson, Jonathan Derkits (3) (W, 1-1), Chace Phillips (7) (S-1) and Rich Letts
2b – Preston Hitchcock RBI – Tony Donofry 2